In this article of mine I would like to outline briefly the history of one of the most coveted and respected fashion brands – and that is, of course, Hermès. However, I believe that it is practically impossible to point to just one fashion brand and claim that it is the greatest. There are four fashion brands that stand out among all others and they certainly have formed a league of their own. Those four brands are Hermès, Louis Vuitton, Dior, and Chanel. By the way, I like to call those top and greatest fashion brands 'THE BIG FOUR'. There are hundreds of prestigious and high-end fashion brands but it is hard to imagine that any brand outside The Big Four in fashion and beauty has even a slim chance to join the company of the very best. Of The Big Four, I have already had the pleasure to present in another article of mine the one and only Coco Chanel – the founder of Chanel.

Now it is time we turned all our attention to the iconic and inimitable fashion and beauty brand of Hermès. Hermès are widely known as being a manufacturer of positional goods that impress everyone. So, the Hermès products are a real head-turner. Every lady knows that the possession of a Hermès product would clearly demonstrate to the whole world that she has real class, most sophisticated taste, impeccable style, and, last but not least, a lot of money (to be more precise loads and loads of money 😊) Believe it or not but Hermès did not start as a fashion brand.
The Short History of Hermès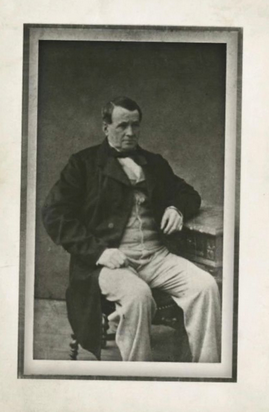 Hermès was founded by Thierry Hermès (1801-1878) who moved from Prussia (today's Germany) to Paris in 1821. It is worth noting that the company Hermès has been in family hands since its establishment in 1821. Very few family businesses can boast of such an achievement which is coupled with incessant quest for innovation and perfection. Thierry Hermès set up his wholesale business near the old city wall of Paris. The precise location was on Basse du Rempart Street ('rue' in French). Thierry Hermès became one of the best manufacturers of gear designed for draft animals that were pulling various vehicles (primarily coaches, carriages, remises, and hackneys). The harnesses produced by the Hermès company were sold mostly to coach builders. In 1879 the son of Thierry Hermès – Charles-Émile Hermès (1835 – 1919) opened the current flagship store of Hermès at 24, rue du Faubourg Saint-Honoré in Paris.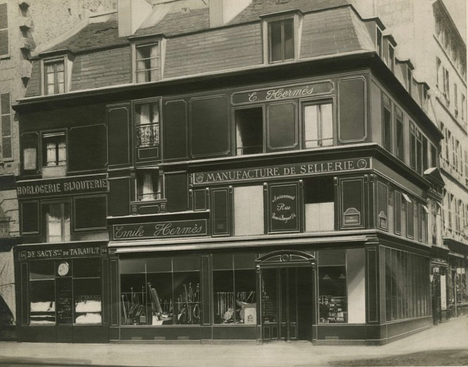 Besides, Charles-Émile Hermès had its imprint on the Hermès company by introducing the manufacturing of horse saddles and various other horse riding equipment products. All the equestrian accoutrements produced by Hermès were targeted at the wealthiest people in the 19th century (and in the early 20th century as well) who could afford the use of horse-drawn carriages and the maintenance of extremely expensive stables of purebred horses. The advent of the automobiles in the end of the 19th century would have signified the downfall of any business that was aimed at horse-drawn vehicles that had quickly become obsolete. But not for Hermès, of course.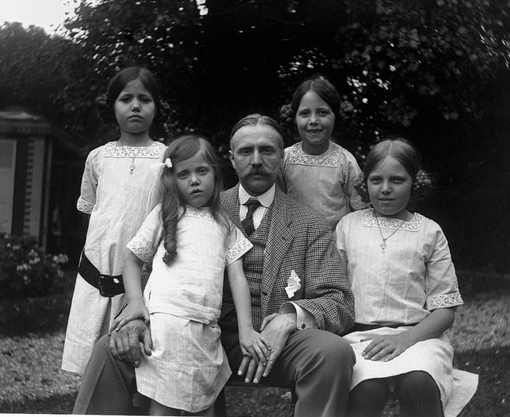 Émile-Maurice Hermès (1870-1951), who was the son of Charles-Émile Hermès, managed to adapt himself and the company that he was running to the needs of the contemporary society that started to depend on new modes of transportation. The travels in the modern times were inextricably associated with luggage. Hermès started offering the most superb and practical containers for travelers' belongings of any type imaginable – suitcases, travel begs, valises, trunks, carryalls, tote bags, etc. As you can see from the photo above Émile-Maurice Hermès had four lovely daughters. For unknown reasons none of Émile-Maurice Hermès's daughters chose to pursue a business career. Of course, I would dare to surmise that the daughters of Émile-Maurice Hermès were still living in an epoch (particularly before the Second World War) when the public expectations towards women were limited to their primary roles as housewives and mothers. Thus, it would have been a nearly impossible mission for any lady to run such a renowned and big company as Hermès. So, it should come as no surprise that the next chief manager of the Hermès company was Robert Dumas (1905 – 1978).
Robert Dumas was Émile-Maurice's son-in-law. Consequently, the company remained in the Hermès family. In his turn Robert Dumas was succeeded by one of his sons, Jean-Louis Dumas (1938-2010).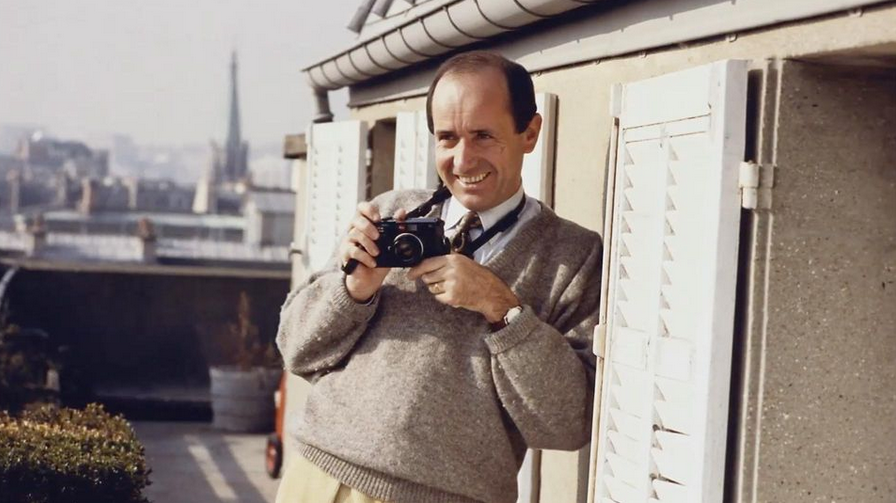 Jean-Louis Dumas proved quite fast that he is a worthy successor to his glorious ancestors. The scale of his innovations and bold moves elevated further the stellar status of the Hermès company. He enlarged the portfolio of Hermès by adding new businesses to it such as watchmaking, shoes manufacturing, and jewelry making. Moreover, thanks to Jean-Louis Dumas several new Hermès stores were opened all over the world.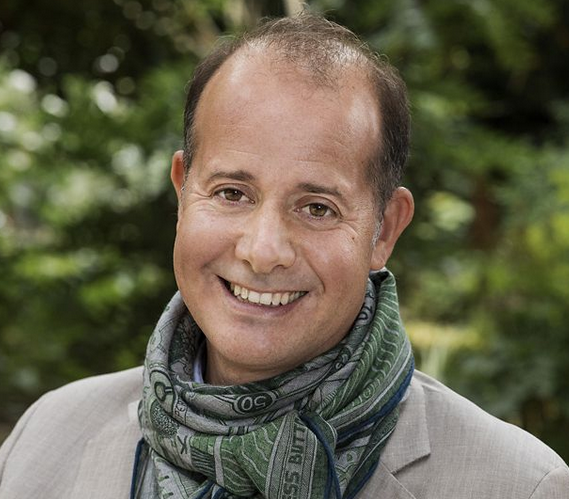 The next generation representative of the Hermès family was Pierre-Alexis Dumas who was the son of Jean-Louis Dumas. Just like his father Pierre-Alexis Dumas continued his search for new Hermès products and the portfolio of Hermès businesses grew larger. In addition to introducing new Hermès products Pierre-Alexis Dumas managed to find new forms of business cooperation with other top companies which resulted in the design and release of unique and much sought-after merchandise.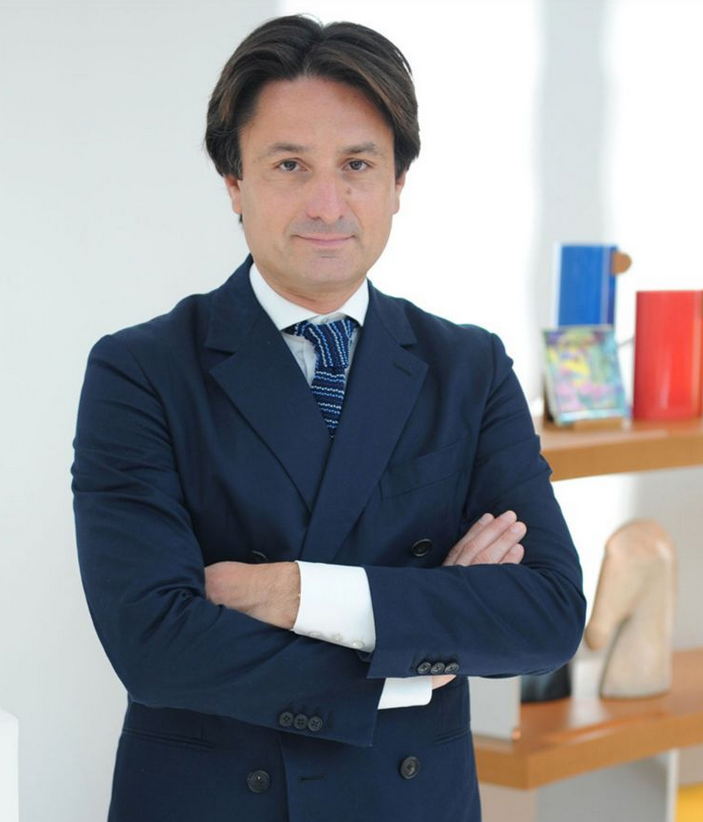 Axel Dumas, who is the nephew of Jean-Louis Dumas, is the youngest member of the Hermès family who joined the management of the Hermès company in 2013 as Executive Chairman. Just like his predecessors Axel Dumas didn't need much time to leave his indelible imprint on the development of the Hermès greatness. His inspiring leadership goes hand-in-hand with his amazing business acumen which allowed Hermès to make a much anticipated breakthrough in the world of luxury beauty. Under the leadership of Axel Dumas the Hermès business empire was enlarged further through new stores and business initiatives that led to the reinforcement of the Hermès brand as a trend-setter and undisputable leader in the worlds of fashion, perfumery, jewelry, and even luxury beauty.

What I admire very much about the Hermès brand is not simply the perfection in the design and the manufacturing of their products. I have always been quite impressed by the traditions of Hermès and the traditions of Hermès are something that very few companies in the high-end fashion and luxury beauty can pride themselves on. The Hermès family never forgot their beginnings and they have never been ashamed of the fact that their creator Thierry Hermès was a manufacturer of harnesses. On the contrary, the Hermès family created a legacy which is showcased in their logo.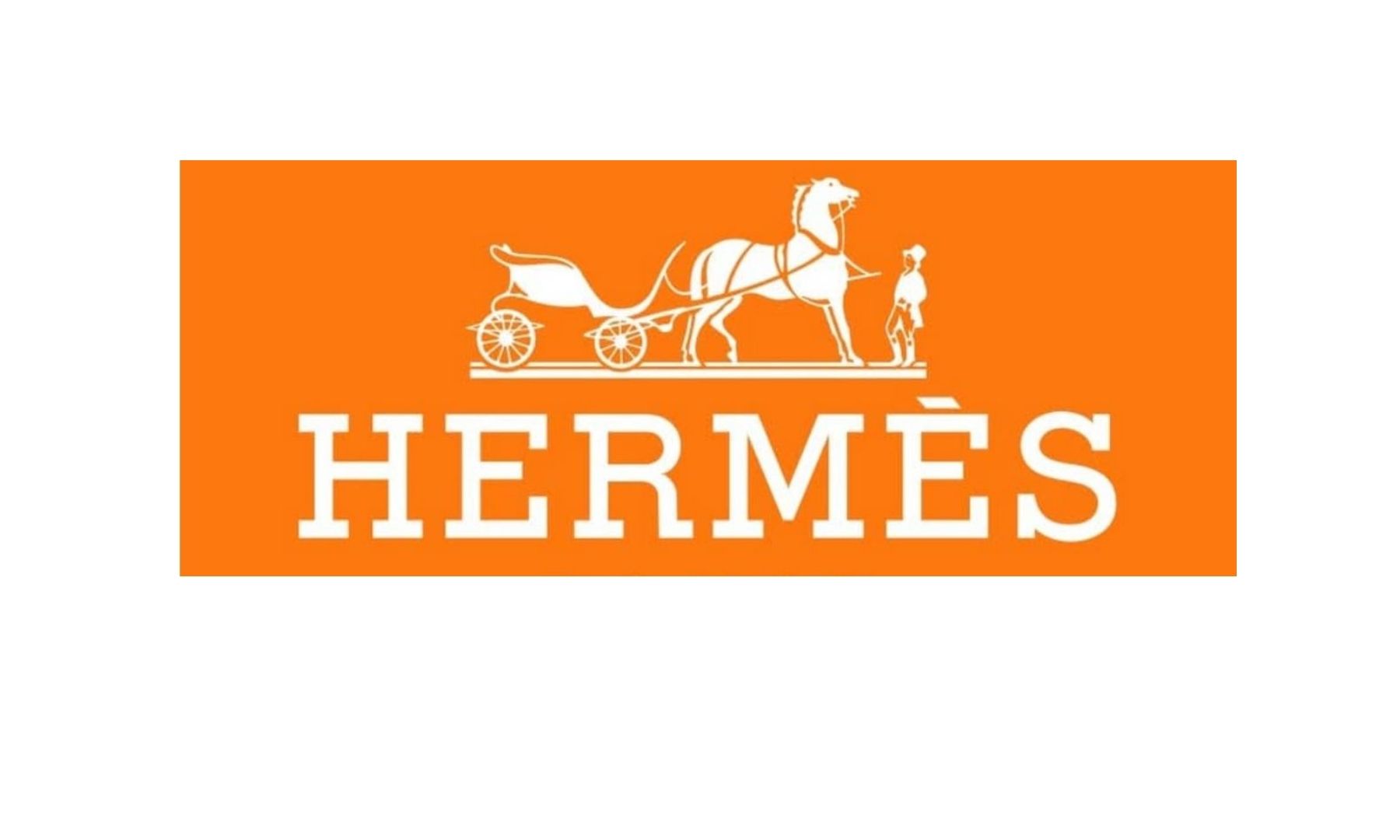 The Hermès logo proudly demonstrates the link of Hermès to an industry which is quite unusual nowadays (the manufacturing of gear for horse-drawn coaches) but this industry allowed the Hermès to lay the foundations of one of the most revered and finest brands in the world of luxury goods. The reputation of the Hermès brand is so enduring that for three centuries already any product associated with Hermès has enormous value.
The Amazing Orange Box of Hermès
To be more precise, not only the products of Hermès but also the packaging of Hermès have great value. I cannot think of any other high-end fashion brand that has created such a remarkable phenomenon – the traditional packaging of Hermès in the form of an orange box is desired by so many ladies all over the world that there are regular Internet auctions of the much coveted and probably 'magical' 😊 orange box of Hermès. The amazing orange box of Hermès is usually used for storing bags, ties, scarves, jewelry, and shoes.

Yet, some people (who obviously cannot afford to buy an Hermès product) are really happy just to possess a small fragment of Hermès grandeur and I do not blame them for it because the orange box of Hermès, as you can see from the photo below, is a fine item of superior quality. The orange color of the box is, in my opinion, the obvious outcome of a stroke of genius. The form of the box is traditionally rectangular but it can be square or round too. And more importantly, the orange box brings with itself the status of Hermès and it is the dream of any lady to be somehow associated with Hermès. And I have to admit that I make no exception 😊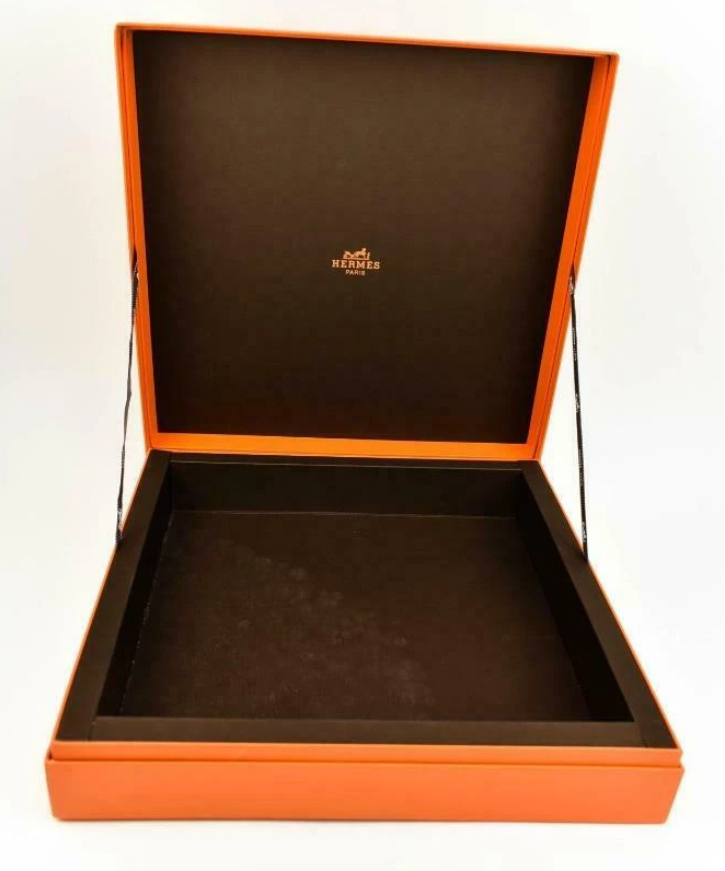 The Signature Products by Hermès
The Hermès ladies' handbags are so popular, coveted, and exceptional that they deserve a special article that should be entirely dedicated solely to them.
Hermès are also famous for their scarves. In this article of mine I have outlined the history of scarves and the very special place in it held by Hermès.
All the clothes offered by Hermès (both for ladies and men) are considered to be prized possessions and I intend to present in the future some fashion items of Hermès that are worth the splurge 😊

The list of Hermès products goes on and on. Yet, it should be noted that most of Hermès products are too expensive and very few people can afford them. However, Hermès took a big step in making at least some of their products affordable to large groups in society and fortunately those people are women. Thus, a new era has begun for Hermès.
A New Era for Hermès
The year 2020 is very special for the Hermès empire since in 2020 Hermès started its luxury beauty line. Typically for Hermès the first release was a dauntless move on their part as they introduced a very large lipstick collection called Rouge Hermès. A few months ago I reviewed in another blog post of mine some of the lipsticks which are part of the Rouge Hermès collection and you can read my review of those lipsticks HERE.

It is worth noting that Hermès have formed a talented team of makeup creators which includes Bali Barret, Pierre Hardy, and Jérôme Touron. The Hermès beauty team is assisted and run by Pierre-Alexis Dumas himself. The personal involvement of Pierre-Alexis Dumas in this new industry reveals how important this business is to the whole Hermès empire. However, thanks to the creative genius of Jérôme Touron I am sure that the next products of the Hermès luxury beauty line are doomed to success.
The story of Hermès is a true fairy tale and I am sure that no one would like it to end. At the same time I am confident that every lady wants to be part of that fairy tale. What I can do for you is to keep you informed about any new releases of Hermès that might be of interest to you. So, stay tuned 😊
Subscribe to my YouTube channel for luxury beauty and fragrance reviews
Follow me on Instagram
You can ready my blog post on the Rouge Hermès collection of lipsticks HERE
Read my article on Coco Chanel HERE