Chanel Holiday 2020 Makeup Collection has been unveiled
Sneak peeks of Chanel Holiday 2020 Makeup Collection appeared just few days ago on Internet. I was really surprised by this bold move of the Chanel marketing team since the Chanel Fall 2020 Collection was released last week. Yet, it is really exciting to have the opportunity to form some initial impressions about this very special collection since it will be a limited collection. So far we know that Chanel Holiday 2020 Makeup Collection consists of an illuminating blush powder, four mono eyeshadows and four lipsticks as you can see from the photo below.
Illuminating Blush Powder 'Les Chaines de Chanel'
Obviously the star of the Chanel Fall 2020 Makeup Collection will be the illuminating blush powder which comes in a beautiful chain design. The chain design has been widely used on Chanel fashion products and thus it has been nicely incorporated in the illuminating blush powder. This is definitely going to be a collectible piece. From what we can see on the photo we can infer that the Chanel blush powder can be classified somewhere between a blush and a bronzer. On the promo photos the powder is called the 'Chains of Chanel' but it is in French and it reads 'Les Chaines de Chanel'. It looks like a beautiful rosy blush. However, we know that on the promo photos usually the products are photoshopped. So, I suppose it will be somewhat darker in real life. It will be offered for $70.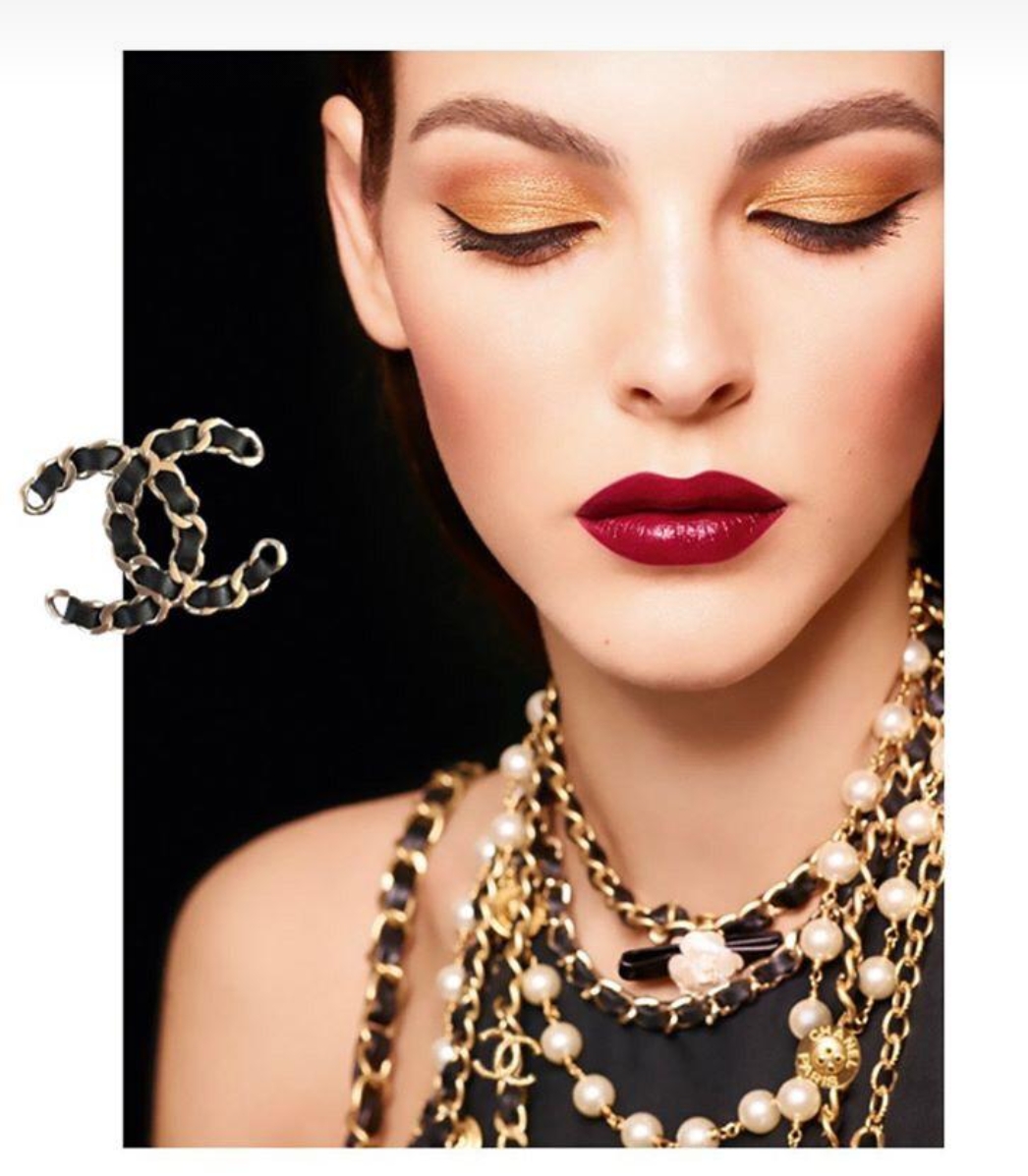 The four mono eyeshadows
The four mono eyeshadows are called 'Antique Gold', 'White Gold', 'Copper Rose', and 'Leather Brown'. Of the 4 eyeshadows, the most interesting is the 927 'Cuivre Rose' or 'Copper Rose'. The Gold shade 925 that is worn on the promo photo by the Chanel model Vittoria looks very similar to the Gold mono eyeshadow that was released with the last year's Holiday makeup collection. I am surprised that this collection does not feature 'Les 4 Ombres' palette because each of the mono shadows will retail for $36. So, it will be quite pricey investment if someone wants them all. However, I think that the four mono eyeshadows will be worth the splurge.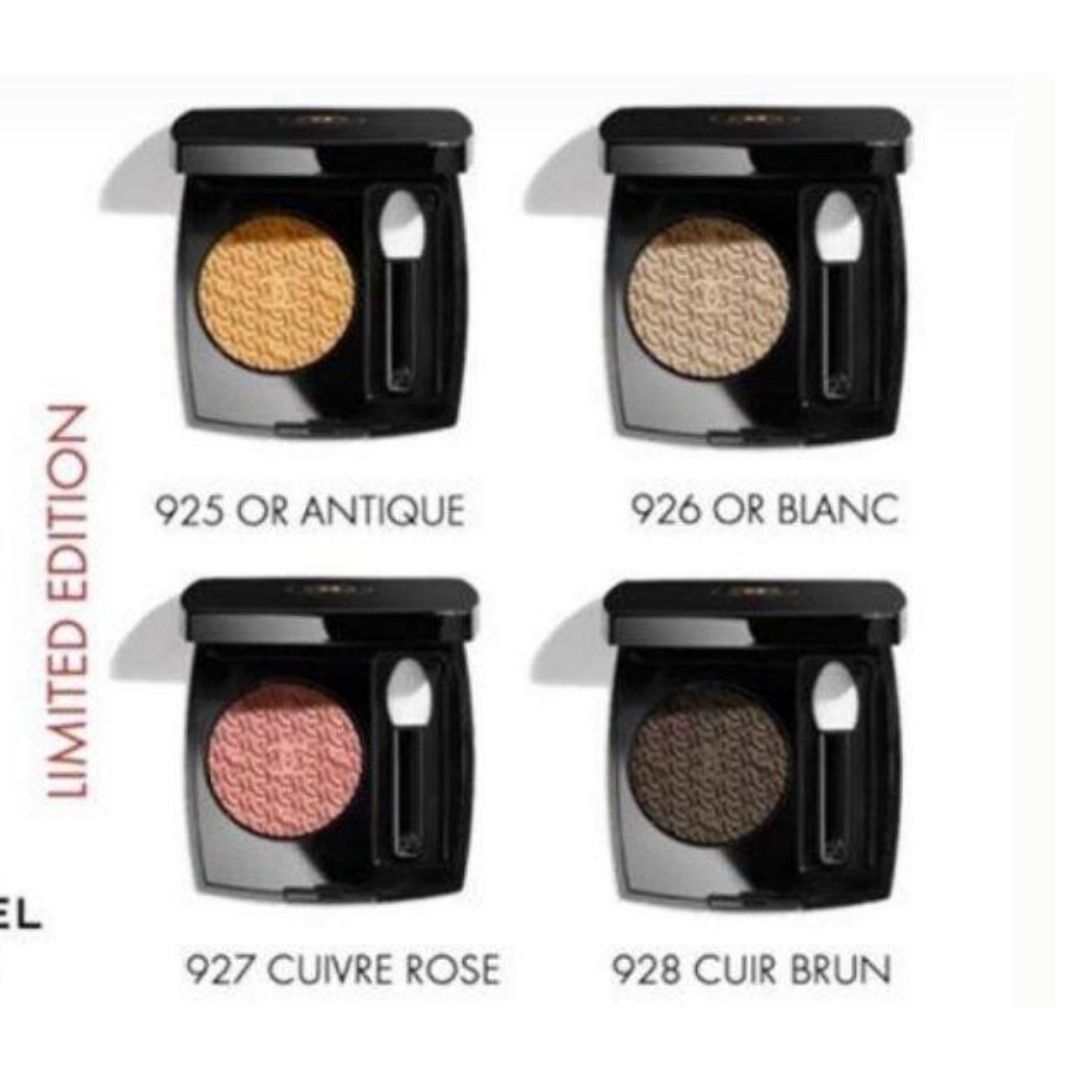 The four lipsticks
The four lipsticks 'Rouge Allure' that we see on the photo consist of one nude beige color which interests me the most and three other classy shades. The second shade is in a statement classic red color, and the remaining two are a darker and a more Gothic red colors (the last one with a little bit of brown hue). The price has not been mentioned but I expect each lipstick to be in the $35-38 price range.

My overall assessment of the Chanel Holiday 2020 Makeup Collection
My overall and initial assessment of the Chanel Holiday 2020 Makeup Collection (before having tried and tested the products comprising this collection) is not just positive as it is enthusiastic. The selected by Lucia Pica eyeshadow colors are very beautiful and the lipsticks look fabulous. My expectations of the illuminating blush powder are also very high. However, this is a limited collection and it is evident that Chanel has targeted with it primarily the Chanel lovers and collectors. There is little basis for comparison with the preceding Chanel collection (Chanel Fall 2020 collection) but in several respects I find the Chanel Holiday 2020 Makeup Collection more exciting and promising than the Chanel Fall Winter 2020 Makeup collection. Read my preview of the Chanel Fall Winter 2020 Makeup collection HERE.
Unusual marketing strategy from Chanel
So early release of sneak peeks of a collection which is due to appear at least several months later is quite an unusual act. Of course, this could be an accidental sharing of some materials about the Chanel Holiday 2020 Makeup Collection but it seems to me that such a scenario is highly unlikely because such classified information is strictly protected and very few people have access to it. Consequently, the Chanel marketing team have decided to create a hype about their next collection and you should admit that it really works.

Lucia Pica has proved once again that she is not only a talented makeup designer but also a shrewd marketeer. The early release of information about forthcoming events and products is not a novelty. Many times in the past I had witnessed the leaking of some photos of supercars, for instance, and this intentional release of graphic information was always successful. However, this approach in the luxury beauty industry is utterly unconventional and Lucia Pica deserves our accolades for this audacious marketing strategy. You can expect on my blog a full review on the Chanel Holiday 2020 Collection as soon as it becomes available. So, please stay tuned ?
Watch my video on the Chanel Holiday 2020 Makeup Collection on YouTube
You can also watch my video on the Chanel Fall 2020 Collection on YouTube