There was a flurry of interest in the newest Tom Ford perfume release – Tom Ford Bitter Peach Eau de Parfum even before its official premiere in the beginning of October 2020. The Tom Ford Bitter Peach Eau de Parfum fragrance is a part of the Tom Ford Private Blend collection. I also awaited with much anticipation this particular Tom Ford fragrance because it seemed quite promising to me from the information that I had obtained about it. I was also intrigued by the name of the perfume 'Bitter Peach' as it instantly created in my mind an image of a fruit that is a hybrid between a peach and a grapefruit. Yummy ?! ?
My impressions of Tom Ford Bitter Peach Eau de Parfum
Tom Ford Bitter Peach Eau de Parfum is a surprisingly fresh and invigorating fragrance. I got a very pleasant vibe when I tried the Tom Ford Bitter Peach fragrance. The scent first gets a little fruity and then it develops into a mixture of fruity, spicy, and floral sensations. There is a subtle development of the sweet redolence but the Bitter Peach fragrance does preserve to a very large extent its initial and essential odor till the end. Still I enjoyed very much the dry down. The Tom Ford Bitter Peach fragrance instantly conjured up an image in my mind in which I was walking in a gorgeous peach orchard which was situated in the foot of a majestic mountain.

Description of the Tom Ford Bitter Peach fragrance
The TF Bitter Peach perfume is sweet but not cloying. It's luscious but not tacky and certainly not dull. Moreover, it is neither bitter nor tangy but the fragrance fully deserves its name as a combination of multiple notes. The opening of this fragrance is zestful but no note is pre-eminent. This is a valuable asset to the Bitter Peach aroma from which I derived much pleasure. I admit that I was able to identify some of the notes of Bitter Peach after spraying it on my skin but I could not detect the smell of all notes.

I have provided below a list of all Bitter Peach notes as an olfactory pyramid. The notes I clearly got a whiff of were peach, orange, sandalwood, patchouli, rum, cognac, and davana. I could smell some spicy odor as well which complemented nicely the identified by me notes. It is commendable that the peach is not totally dominant because if this were the case, then this perfume would have been a complete disappointment which could not live up to the high expectations from a high-end luxury fragrance.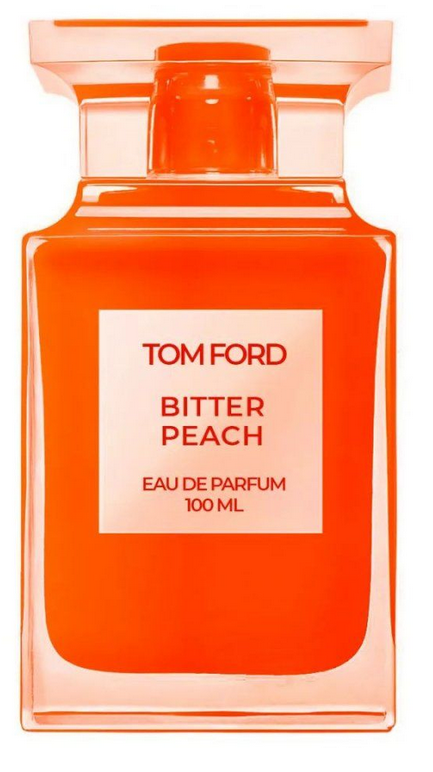 The character of TF Bitter Peach
TF Bitter Peach is a complex fragrance, but I should admit that it is not too original. That being said, the lack of originality does not detract at all from the value of this TF perfume. Some years ago Tom Ford declared that the Private Blend fragrances are unrestrained 'by the conventions of mainstream scent-making'. This claim is not substantiated with respect to this fragrance, though. However, I would like to emphasize that this is not a problem at all because unconventional products rarely have commercial success. I also beg to differ with Tom Ford about the nature of Bitter Peach since it was defined as 'erotic' by Tom Ford whereas the eroticism of this fragrance is completely lost on me. Yet, once again I opine that the different perceptions of a single scent are to be expected and are quite natural.
I was surprised that Tom Ford did not divulge the name of the perfumer (or perfumers) who created this particular fragrance. It seems to me that the nose(s) behind this newest addition to the TF fragrance collection deserves credit for their work.

TF Bitter Peach is a unisex fragrance. I approve completely the approach of Tom Ford to creating shared perfumes for ladies and gentlemen since I realize how hard and challenging it is to invent scents that are appealing both to women and men. Therefore, a unisex perfume requires a lot of hard work and sky-high imagination. TF Bitter Peach has a playful and delectable character and I have no doubt that it will be rated highly by both female and male fragrance aficionados.
Subscribe to my YouTube channel for luxury beauty reviews
Olfactory pyramid
Top notes:
Wild peach, Sicilian blood orange, Cardamom
Middle notes:
Heliotrope, Davana, Rum Absolute, Cognac, Jasmine Sambac Absolute
Base notes:
New Caledonian Sandalwood, Benzoin, Cashmeran, Vanilla, Tonka Bean Absolute, Labdanum Absolute, Styrax, Indonesian patchouli, Vetiver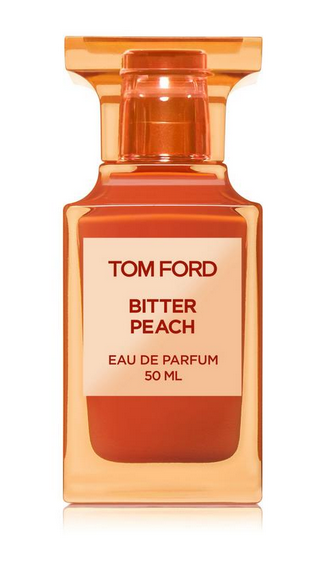 Longevity and sillage
This Tom Ford fragrance lasts approximately 5 hours on my skin. It's not the most long lasting perfume but what matters is that it smells good and its longevity is completely acceptable. Its sillage is also very good and the people who like (and can afford) to spice up the atmosphere around them will certainly spritz it generously so that they can energize themselves.

Packaging
Tom Ford Bitter Peach is available as a 50 ml, 100 ml and 250 ml Eau de Parfum. I have already shown you above the 50 ml and the 100 ml bottles. The largest bottle of 250 ml is different as you can see from the picture below as it has a round cap whereas the smaller bottles have a square cap. All bottles are designed with finesse and class. The bottles are very attractive because of the depth that is so masterfully created by the transparent outer covering and the finely tinctured in orange inner core.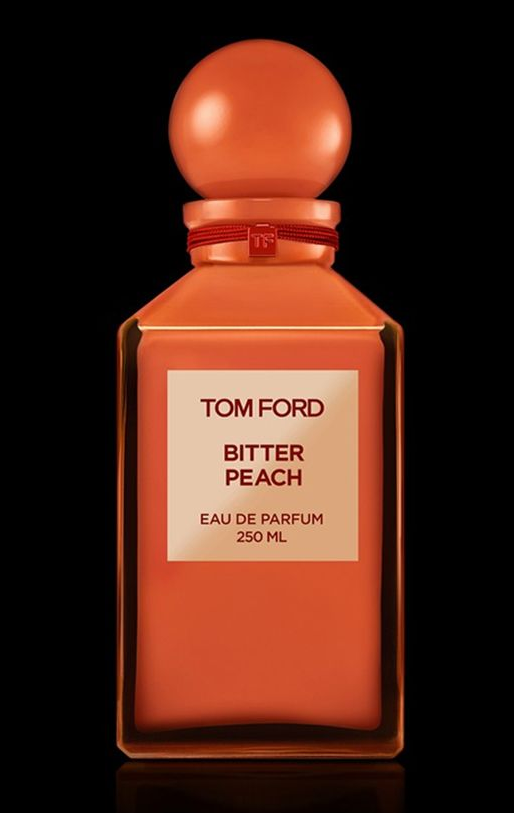 My overall assessment of Tom Ford Bitter Peach Eau de Parfum
I am completely satisfied with the newest Tom Ford fragrance. Overall, I like this newest Tom Ford perfume. The Tom Ford Bitter Peach Eau de Parfum could be a nice addition to one's fragrance collection but I do not think that it is worth the splurge for me because the smallest bottle of 50 ml retails at $350.
This review is based on a TF Bitter Peach sample.
You can buy Tom Ford Bitter Peach Eau de Parfum at Saks Fifth Avenue (US) HERE
Alternatively you can buy Tom Ford Bitter Peach Eau de Parfum at Sephora (US) HERE
You can buy Tom Ford Bitter Peach Eau de Parfum at Selfridges (UK) HERE
Subscribe to my YouTube channel for luxury beauty reviews
Follow me on Instagram
Read my review on Miss Dior Rose n'Roses HERE
You can read my Valentino Voce Viva Eau de Parfum review HERE