Christian Dior launched in September 2020 their newest perfume J'Adore Infinissime. It is a floral flanker to the J'Adore fragrance from 1999 which has become one of the iconic fragrances for Dior. With such stunning success for more than two decades Dior are completely allowed to be complacent about their achievements because both the original J'Adore fragrance from 1999 and the newest version of it J'Adore Infinissime Christian Dior for Women are true masterpieces. The new Dior J'Adore Infinissime is a powerful fragrance which is not a mere revamp or upgrade to the original J'Adore fragrance from 1999.

I have no doubt that very soon Dior J'Adore Infinissime will become firmly established as one of the signature fragrances of Dior and it will be duly appreciated by all fragrance lovers. I like the perfume and I also like its name. It transpired that although 'Infinissime' sound very French, it is not an existing word from the French vocabulary. However, it is crystal clear that 'Infinissime' is related to an adjective which means infinite or boundless. It is a poetic and fictional name which bring even more charm to this incredible fragrance.
Description of J'Adore Infinissime Christian Dior for Women
Dior J'Adore Infinissime has been created by François Demachy who is the Dior Perfumer-Creator. François Demachy keeps defying the odds by producing high-class perfumes and Dior J'Adore Infinissime makes no exception. The fragrance virtuoso has collected very few notes in Dior J'Adore Infinissime but the result is really impressive. The Dior in-house perfumer François Demachy deserves for sure much praise for this high-caliber fragrance creation of his. It is also worth noting that François Demachy decided to resort to the 'enfleurage' method in the production of J'Adore Infinissime. The 'enfleurage' method is an old-time technique for the extraction of essential oils from flowers.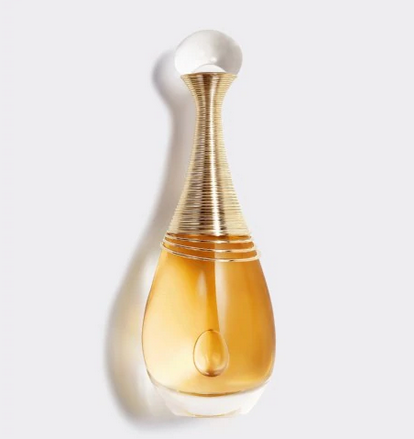 Dior J'Adore Infinissime is a captivating and rapturous fragrance. It is an unexpectedly successful mixture of slightly bitter bergamot oil and fresh blood orange (these are the top notes). However, the stars of the Dior J'Adore Infinissime fragrance are indubitably the Centifolia Rose and the Grasse Tuberose. In my humble opinion, a perfumer can never be wrong if they rely on a mighty rose aroma. The genius of François Demachy goes beyond this simple truth and concept as he has intertwined the redolence of roses with sandalwood (the base note), Jasmin Sambac, and last but not least Ylang-Ylang.

Dior J'Adore Infinissime has a clean floral opening that slowly settles down and blends with the signature notes of this fragrance which, in my opinion, are rose, orange, and bergamot. The woodsy facet of the perfume can be also clearly recognized. The dry down is fresh, floral with a hint of sandalwood which balances the intensity of the orange and the rose.
Olfactory Pyramid
Top notes: Bergamot and Blood Orange
Middle notes: Centifolia Rose, Jasmin Sambac, Ylang-Ylang, Grasse Tuberose
Base notes: Sandalwood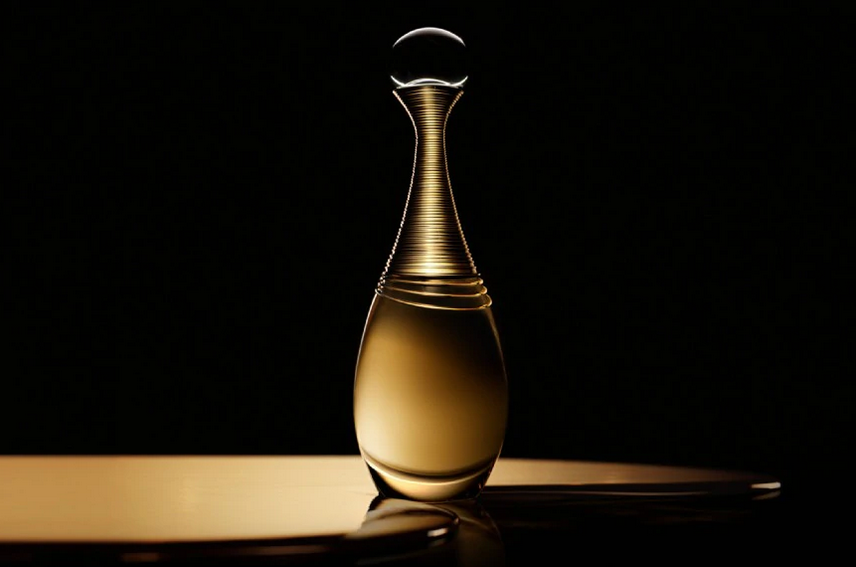 Packaging
The J'Adore Infinissime fragrance comes in a 50 ml and 100 ml classical Dior bottles. The bottle looks like a decanter and every minutest detail in it is executed to perfection. I disagree with Dior, though, that the bottle is comparable to a jewel. It is certainly a piece of work but the fact that golden threads entwine the glass bottle does not elevate this particular packaging to the level of a jewel.
Longevity and sillage
On my skin the J'Adore Infinissime fragrance lasts about 5-6 hours. Therefore, its longevity is quite normal. Contrary to its name, the longevity obviously cannot last forever. By the way, I was very amused by the joke that one does not have to buy the J'Adore Infinissime fragrance since it will suffice to spray it just once from a tester on one's skin and enjoy it eternally. The sillage of J'Adore Infinissime is average but it evoked a lot of delightful images in my mind after I spritzed it in the air.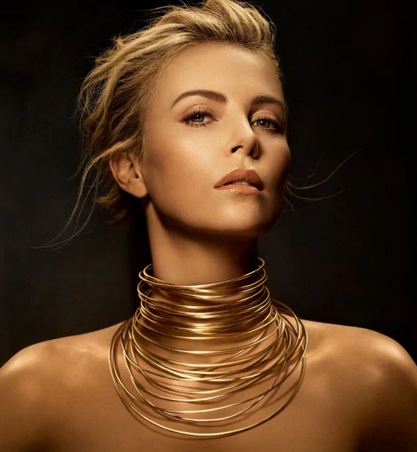 Critique on the marketing of Dior J'Adore Infinissime
I was completely objective in reviewing the Dior J'Adore Infinissime fragrance and I did pinpoint all its merits. However, there is one aspect of the launch of the Dior J'Adore Infinissime fragrance that did disappoint me and I simply cannot hide it. That aspect is the marketing of Dior J'Adore Infinissime. The face that is associated with this perfume is the famous and very talented American actress from South African descent Charlize Theron.

I do not deny the fact that Charlize Theron is a very beautiful lady. She is also relatively young since she is 45 years old. What irritates me, though, is that Dior try to convince us that Charlize Theron does not have even a single fine line let alone a wrinkle. Moreover, please take a closer look at the picture above and try to detect any expression lines. No matter how hard you try you will not succeed in finding even a single expression line on the gorgeous face of Charlize Theron. That's medically and anatomically impossible.

Even a toddler has expression lines and, therefore, there is no shame in having expression lines and thus being human. Dior obviously forget that Charlize Theron is a much sought-after Hollywood actress and all of us have the privilege to watch her movies on a regular basis. And although she wears professional makeup, her actual face has nothing to do with her visage from the picture above. I am confident that Dior do not realize that such a fake picture undermines seriously their credibility. Even at a subconscious level one can easily dismiss the wonderful J'Adore Infinissime fragrance simply because of the 'unreal' perfect face of Charlize Theron. A lie is not a great foundation for establishing trust and discovering and cherishing the otherwise first-rate perfume.
And there is more …
Another aspect of the marketing campaign of Dior for J'Adore Infinissime which I strongly dislike is the short video which features again Charlize Theron. She is accompanied by several ladies who wear diaphanous gowns that leave the impression that they exhibit a larger part of their bodies than it is appropriate due to their skimpy clothing. Besides, they are situated in a large bath which, in my opinion, is not the perfect setting for such video as it totally failed to convey the tenderness and the greatness of the Dior J'Adore Infinissime fragrance.
My overall assessment of Dior J'Adore Infinissime
I rate very highly the new Dior J'Adore Infinissime fragrance and I would give it 9 out of 10 without any hesitation. I certainly plan on purchasing this Dior perfume in the future.
This review is based on a Dior J'Adore Infinissime sample.
You can buy Dior J'Adore Infinissime at Saks Fifth Avenue (US) HERE
You can buy Dior J'Adore Infinissime at Nordstrom (US) HERE
Buy Dior J'Adore Infinissime at Selfridges (UK) HERE
Read my Tom Ford Bitter Peach Eau de Parfum Review HERE
Read my review on Miss Dior Rose n'Roses HERE
Subscribe to my YouTube channel for luxury beauty reviews
Follow me on Instagram