One of the most expected releases in 2020
Tom Ford Eye Color Quad in Burnished Amber was one of the most expected releases from Tom Ford this year. There are at least four reasons for this particular hype about Tom Ford and those four reasons are the four extraordinary shades of the Tom Ford Burnished Amber palette. I have no doubt that this palette will be very successful since it offers a great spectrum of possible looks that can be achieved and it is easy to apply and wear.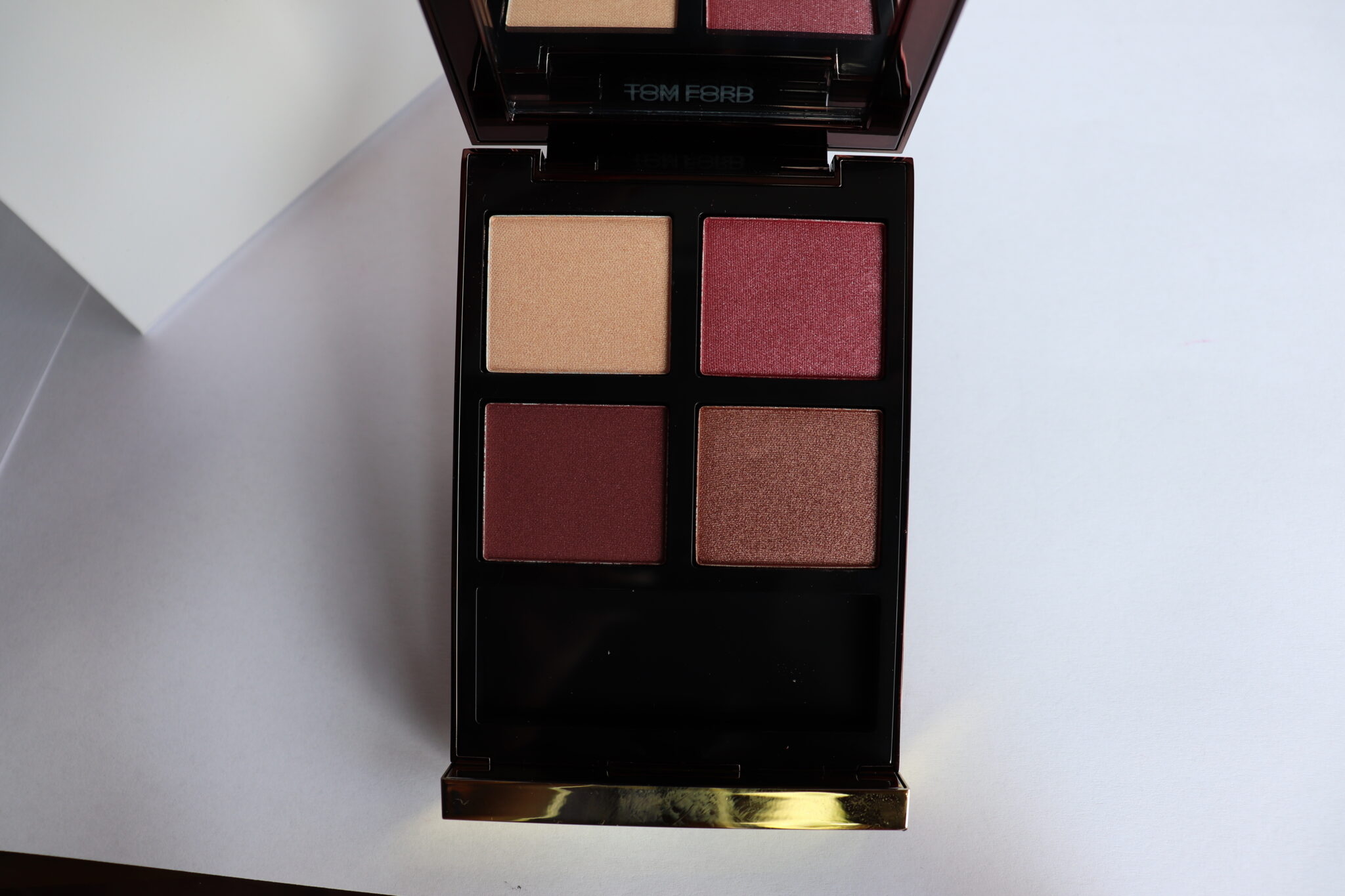 Back to life
It is no secret that the Tom Ford Eye Color Quad in Burnished Amber is a re-release of a Tom Ford palette which was introduced in 2012 but was discontinued. Re-introducing a top product is always a good idea and a best practice that I fully endorse. Sometimes it is advisable for brands to stick to their best products for a long time instead of constantly trying to create new products for the sake of launching something new which is far from being as successful and efficient as their statement pieces tried and tested over a long period of time. Of course, I do not suggest that brands should stop making releases of new products but they should strike a fine balance between new and old products. Consequently, Tom Ford has taken a wise decision to bring the old palette back to life.

Color Story
As you will see from the swatches below, the colors of this palette do not swatch quite well on the arm and do not appear very vibrant on arm swatches but on the eyelids the colors blend beautifully. It is trendy for the fall season and contains easy to wear shades. The Tom Ford Eye Color Quad in Burnished Amber is suitable for day to night look.
The 1st color is light peachy shade with warm undertones. The first shade appears very pale on the arm swatch but on the eyelids it shows well.
The 2nd color is rusty reddish shade that has the tiniest shimmer particles which are undetectable under the eyelids but create a most pleasant sheen.
The 3rd color is reddish brown shade. The third shade produces a lot of fall-out when applied which is to be expected by the pressed powder formula.
The 4th color is bronzy brown shade with a beautiful sheen. It does not have fall-out unlike the third shade.
Tom Ford Burnished Amber Swatches
Please see the swatches below to find out how the four shades described above appear on my arm.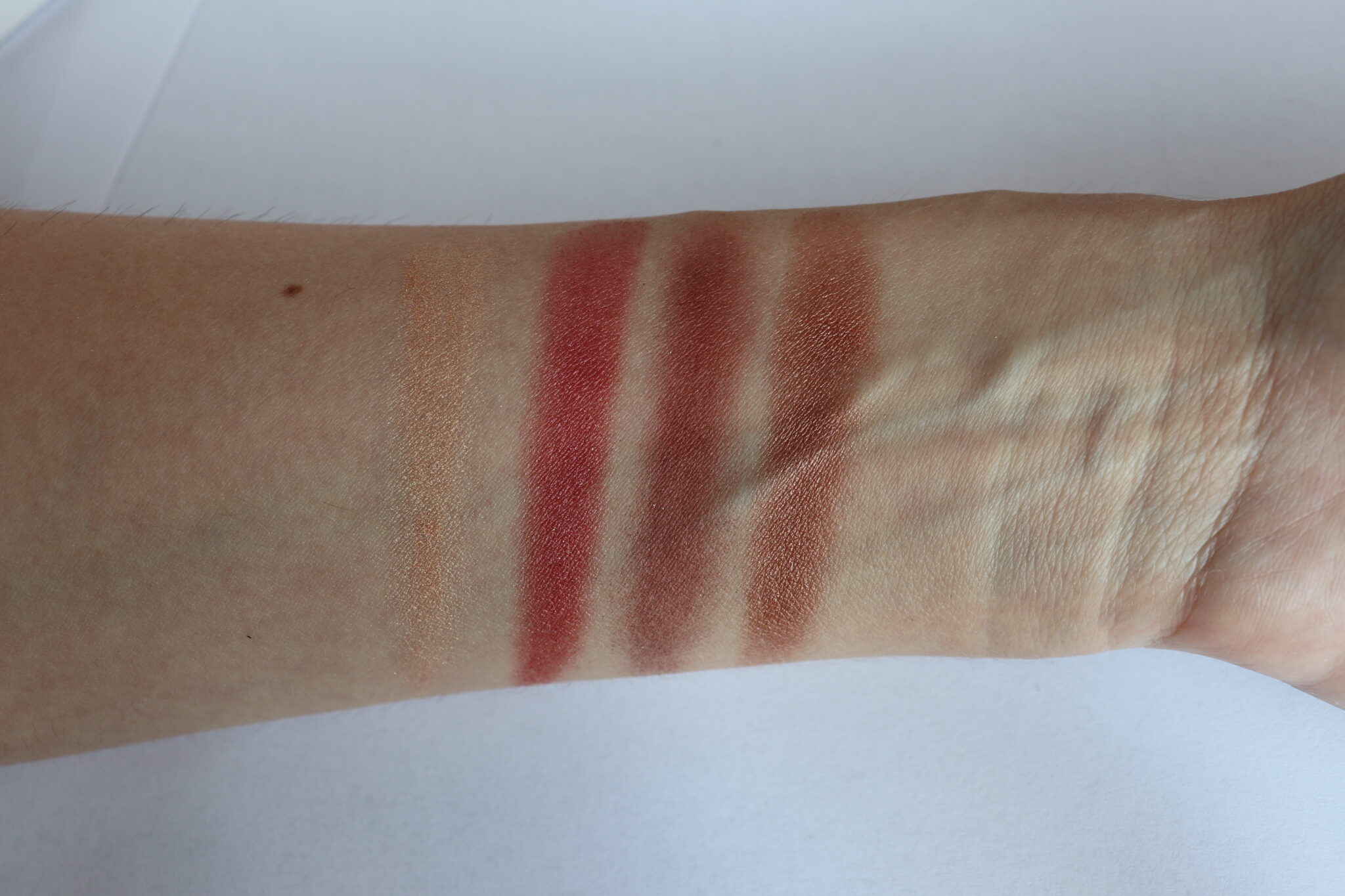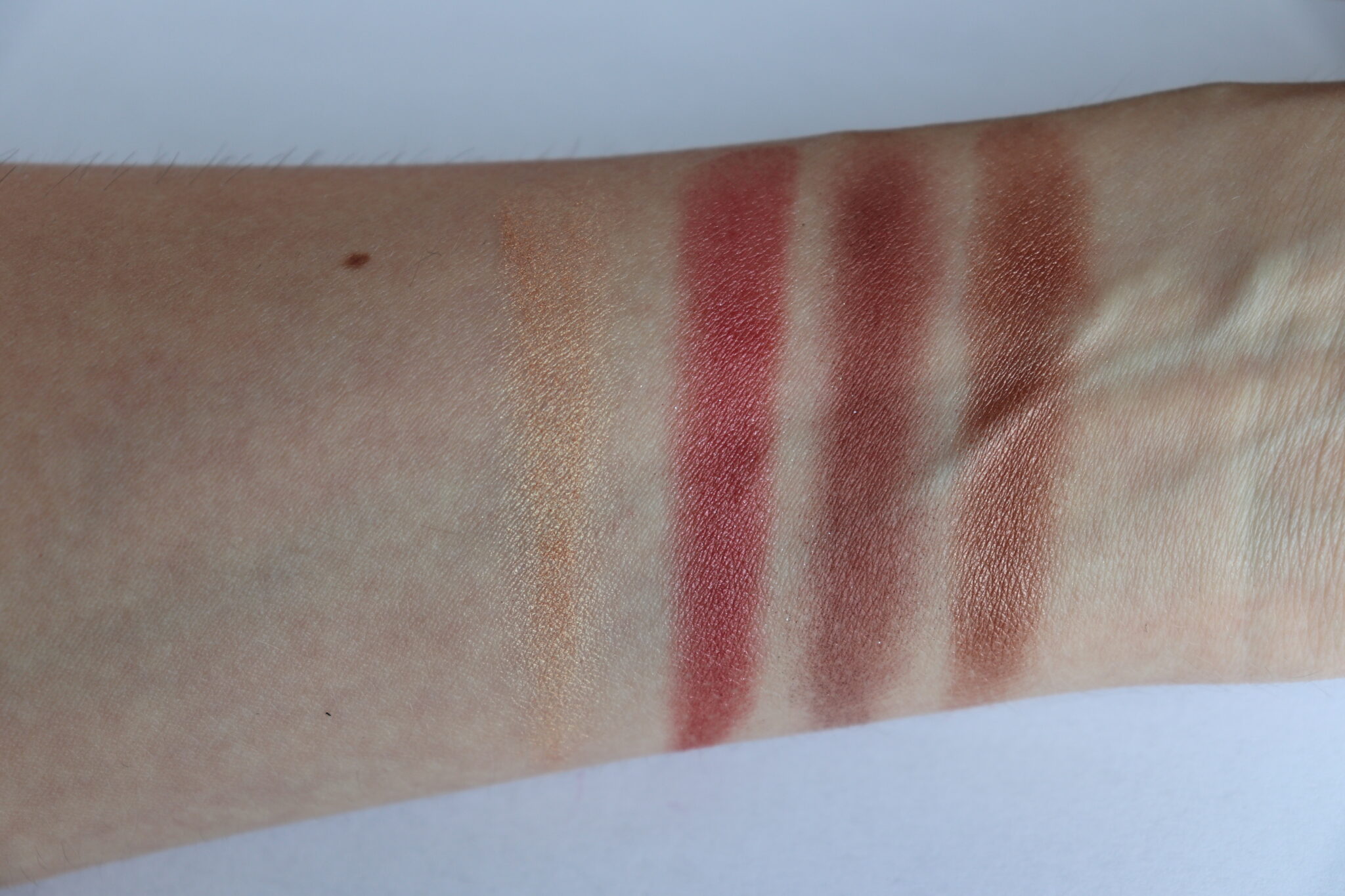 Packaging
The Tom Ford Burnished Amber palette comes in the typical for all Tom Ford palettes brown case with a golden side. It is available only in a three-piece makeup set with a couple of mini lipsticks. The lipsticks are very nice addition to the TF palette and, more importantly, they do not increase significantly the price of the whole set. The lipsticks are in very beautiful colors – Scarlet Rouge and Casablanca. Two custom applicators are included in the Tom Ford Eye Color Quad in Burnished Amber as well. The applicators are always very handy and facilitate greatly the application of the makeup when you are not at home.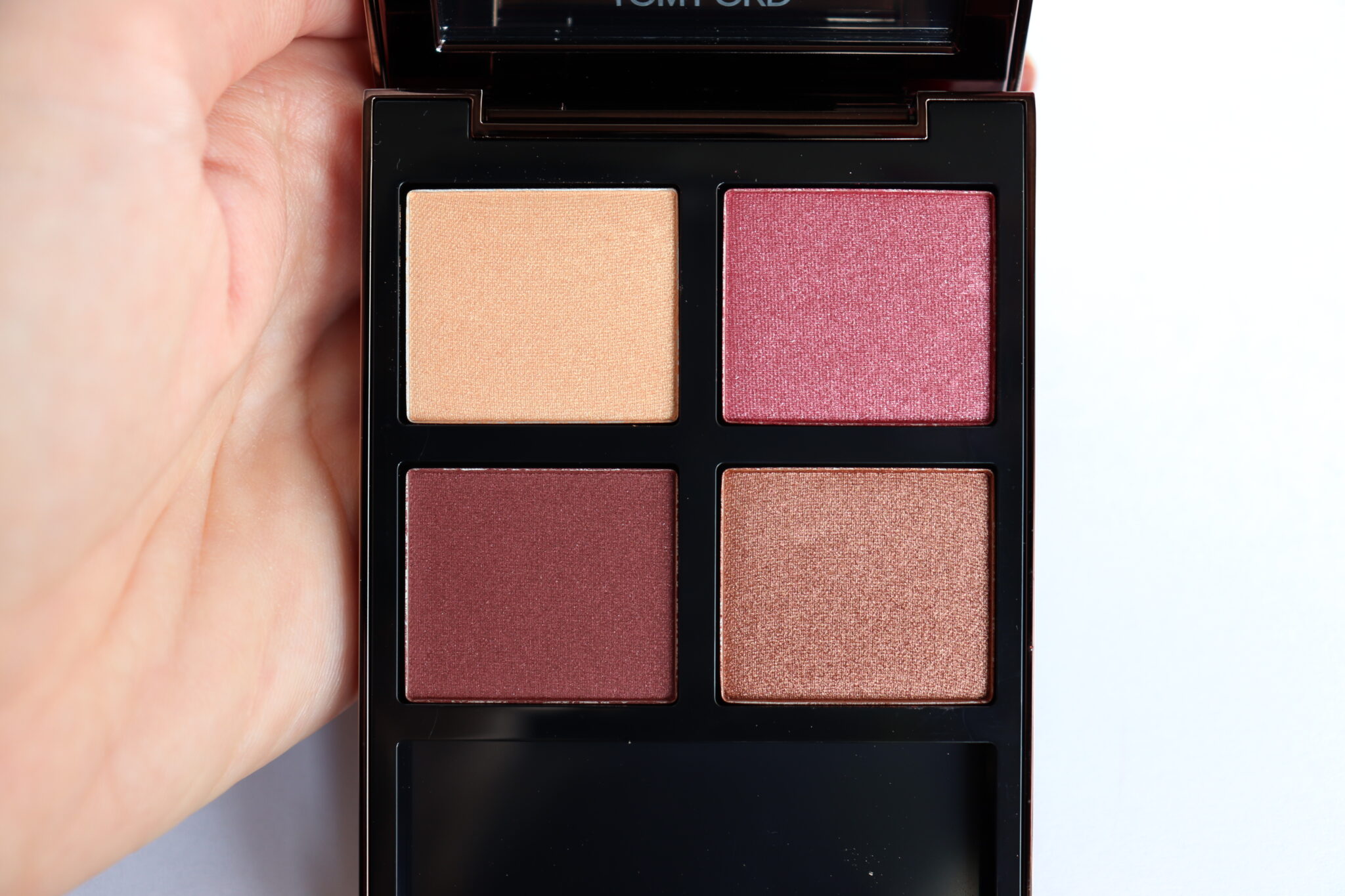 My overall assessment
I am completely satisfied with the high-quality and performance of the Tom Ford Burnished Amber palette. Most importantly, although the four shades in the TF Eye Color Quad in Burnished Amber complement each other nicely, they provide a great number of opportunities for achieving different makeup looks. The TF Eye Color Quad in Burnished Amber is based on a formula that produces remarkable finishes and comfortable adhesion. The formula in question includes the use of pressed powder and it is quite distinctive in comparison to the more loved Tom Ford wet and dry formula. I cannot ask for anything more in a palette and I am fully aware that this TF quad outperforms most of the luxury eyeshadow palettes that have been launched on the market since the beginning of 2020.
Purchase Tom Ford Burnished Amber palette HERE