Who are Parfums de Marly?
Before reviewing the Delina perfume which in my humble opinion is the signature scent of Parfums de Marly, I would like to present briefly the brand itself. Parfums de Marly claim that they have renewed the splendor of the 18th century when the greatest perfumes were created for the French king Louis XV and I fully agree with them. Parfums de Marly were founded in 2009 by Julien Sprecher who is a second generation perfumes aficionado. Julien Sprecher is not a resident of Versailles but he was raised in a place which is very close to the palace and the gardens of Versailles which was the principal royal residence of France until the end of the 18th century.
Due to Julien Sprecher's management skills, great inspiration, and his true passion for unique fragrances Parfums de Marly quickly became a highly recognizable and respected top perfumery brand. It is worth noting that the brand was named after 'Château of Marly' which was another French royal residence located just west of Versailles. It has very intriguing history which I might share with you in another blog post of mine.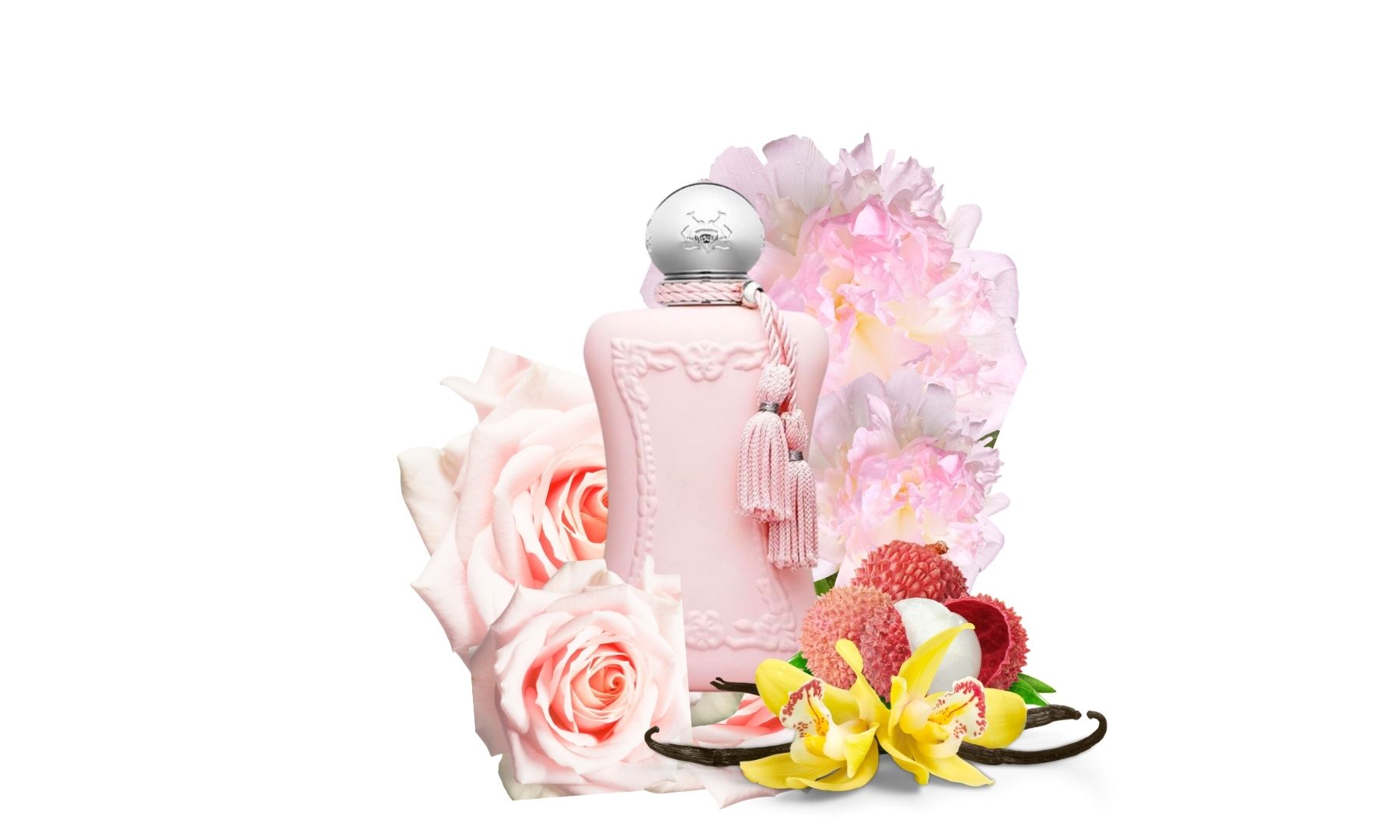 Olfactory Pyramid of Delina
Top notes: Bergamot, Litchi, rhubarb, nutmeg
Heart notes: Turkish Rose, peony, vanilla
Base notes: cashmere wood, musk

The grandeur of Delina
In this amazing fragrance of Parfums de Marly immediately after spraying it I can feel sweet fruity and floral notes. The opening is a little sharp but not tart. Delina is romantic and feminine like a beautiful summer flower at night. Delina is a soft and delicate fragrance but it has a lot of presence and character. The vanilla in this fragrance adds depth to the whole composition and makes it quite addictive. The incorporation of rhubarb and Litchi in the notes of Delina was quite an unexpected move and it makes the fragrance quite unique.
The Turkish rose blends in beautifully in this fragrance but even more importantly it is not overwhelming so even people who don't usually like very much the rose scent will appreciate for sure this magnificent perfume. In the nice drydown I can feel the cashmere wood and musk which make the fragrance feel velvety soft and refined. Consequently, all the notes in Delina are expertly blended together.

It is no wonder that Delina by Parfums de Marly has become one of the most loved niche fragrances. Delina's sophistication is suitable for all seasons but I love wearing it mainly in the summer. It is also appropriate for wearing both during the day and in the night. So, Delina is a fragrance that develops beautifully throughout the day. To be able to fully appreciate this perfume you have to wear it for a day. My experience shows that this fragrance smells very different on a blotter paper and on the skin. The longevity of Delina is definitely long lasting and it also has a strong sillage.
The perfumer
The nose behind Delina is the distinguished perfumer Quentin Bisch. He deserves a lot of accolades for his brilliant work. Quentin Bisch has created more than 60 fragrances and he has worked for numerous top luxury fragrance brands. Due to his amazing skills he is one of the most sought-after perfumers. Without doubt Quentin Bisch has left a fragment of his soul and great talents in Delina but this is not a problem because obviously his soul is Brobdingnagian and his talents are unending ?
My overall rating of Delina
It should come as no surprise to you that Delina has become one of my favorite fragrances, and I highly recommend it as a mandatory possession for every perfume lover. My love for Delina started two years ago when this fragrance used to be my signature fragrance for almost a year. I have bought it recently as a part of the Parfums de Marly Feminine collection so that I can try all women's fragrances of Parfums de Marly. It is also available in a 75 ml bottle which is a true artwork by itself as you can see from the photo above.
YOU CAN BUY DELINA HERE
Subscribe to my YouTube channel for luxury fragrances reviews
Read my article on Chanel Holiday 2020 Makeup Collection HERE
Subscribe to my Instagram account