Get ready to dive into the most luxurious Private Beach Club experience.
House of Sillage have just released their new Private Beach Club Body collection and I can't wait to share with you all the details. As you would expect from the House of Sillage the whole collection is a dream come true for every luxury lover who is obsessed with skincare. The collection features a Luxurious Shower Gel, Body Lotion, Body Oil, and Hydrating Facial Mist. Each of these products contains carefully selected organic ingredients and anti-oxidants to ensure the most exquisite luxury experience. The new Private Beach Club Body Collection is a true confidence booster. All products from this collection are delicately scented and provide the most exquisite skincare experience. No doubt House of Sillage is one of the few brands capable of exceeding the highest expectations of its high-end luxury customers.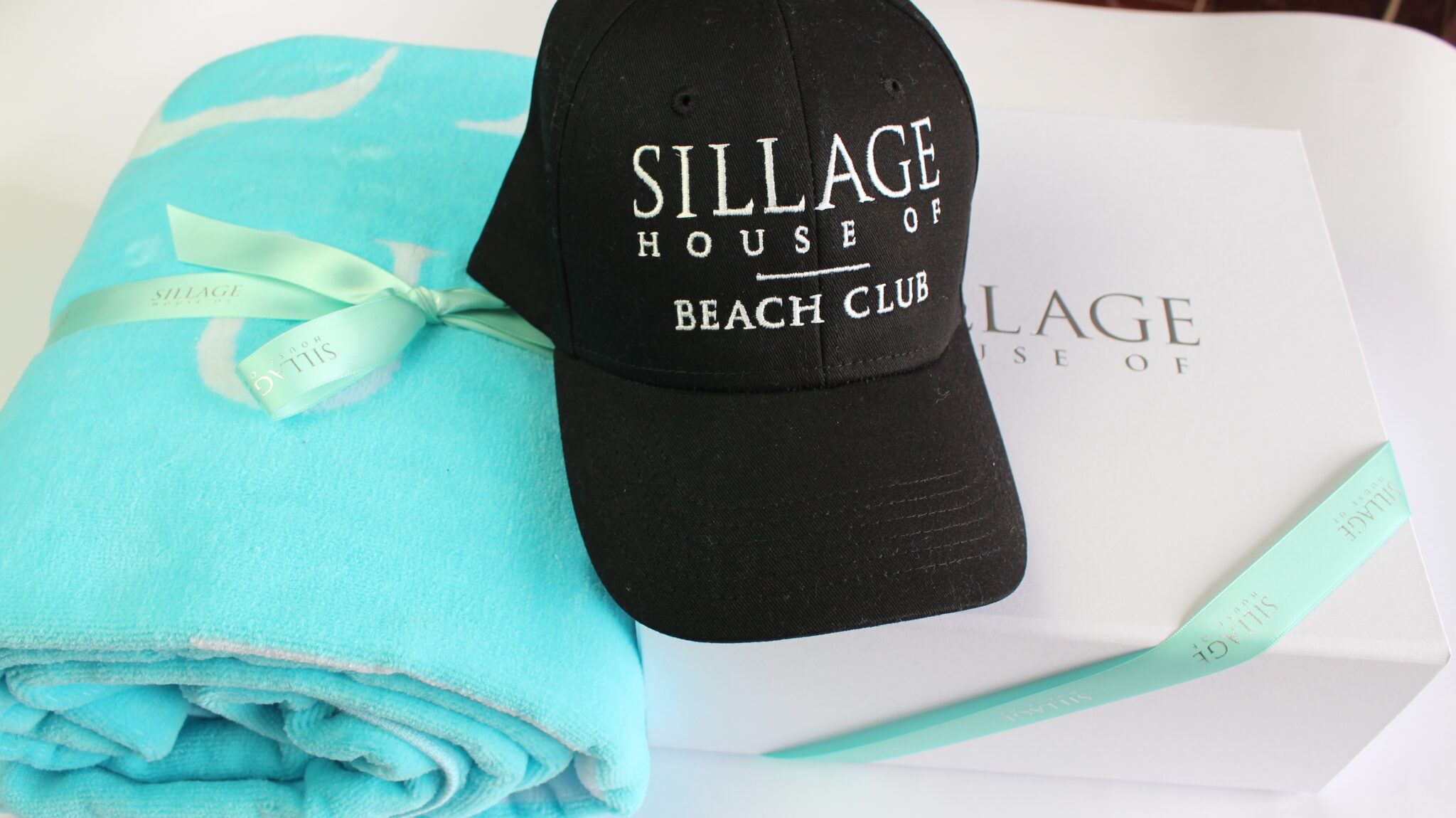 House of Sillage Private Beach Club collection – a real game-changer.
Immediately after applying the products you will feel the exotic aroma of lime, coconut, and eucalyptus which will instantly take you to an imaginary private beach – your own piece of paradise. ? This collection is real game-changer. Here House of Sillage managed to combine the incredible skincare benefits of natural ingredients while keeping the luxurious feel of the products. The formulations of the products are truly exquisite. All products contain a rich complex of botanical ingredients and vitamins that help to protect the skin from environmental ageing and work long term to deeply nourish and strengthen the skin. Let's take a closer look ate each of the products from the new Private Beach Club Body collection: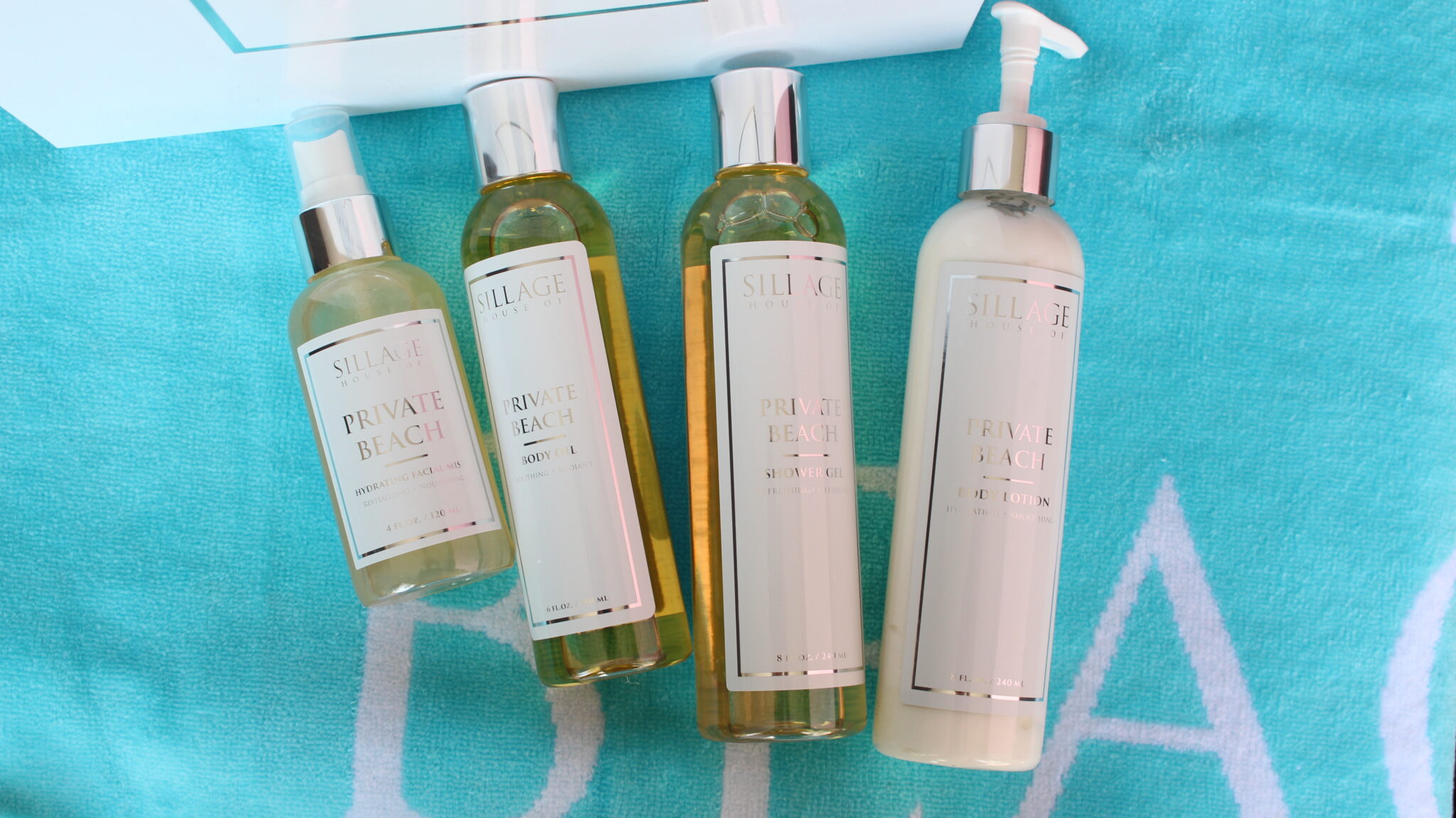 Shower gel – 98% Natural | 82% Organic
This rich, foamy cleanser is made of the highest quality natural ingredients that help to boost hydration while gently cleansing the skin. It leaves even the most sensitive skin (I have very sensitive skin) soft and smooth. Some of the key ingredients here are organic coconut oil, organic sunflower oil, and botanical glycerin. The light exotic scent adds to the whole experience. You will be able to feel the exotic aroma of lime, coconut, and eucalyptus.
Sulfate, paraben and phthalate free.
House of Sillage Private Beach Shower gel INGREDIENTS
Water, Potassium Cocoate (Organic Coconut Oil), Potassium Oleate (Organic Sunflower Oil), Lauryl Betaine, Glycerin, Benzyl Alcohol, Potassium Palm Kernelate (Potassium Salt of Palm Kernel), Palm Kernel Acid, Decyl Glucoside, Potassium Citrate, Parfum (Fragrance).
Body Lotion 96% Natural | 71% Organic
The new House of Sillage body lotion is like a gentle hug for the most sensitive skin. It absorbs instantly and leaves the skin exceptionally smooth. I look forward to using the Private Beach Body lotion because it leaves my skin incredibly nourished. It doesn't leave any oily residue. It disappears into the skin instantly leaving smooth baby-like skin.

The House of Sillage Private Beach Body lotion is packed with a cocktail of organic ingredients that my skin loves. Some of the key ingredients here are: organic sunflower oil, organic Aloe vera leaf juice, sesame seed oil, avocado oil, organic calendula oil, sweet orange essential oil, evening primrose oil and the list goes on.
This body lotion leaves the most gentle and sophisticated natural scent on the skin. Just like the shower gel it has notes of lime, coconut, and eucalyptus. The scent is so light and pleasant that it won't bother even people who are sensitive to fragrances. In my opinion, this body lotion is so gentle and pleasant that it's suitable for children as well.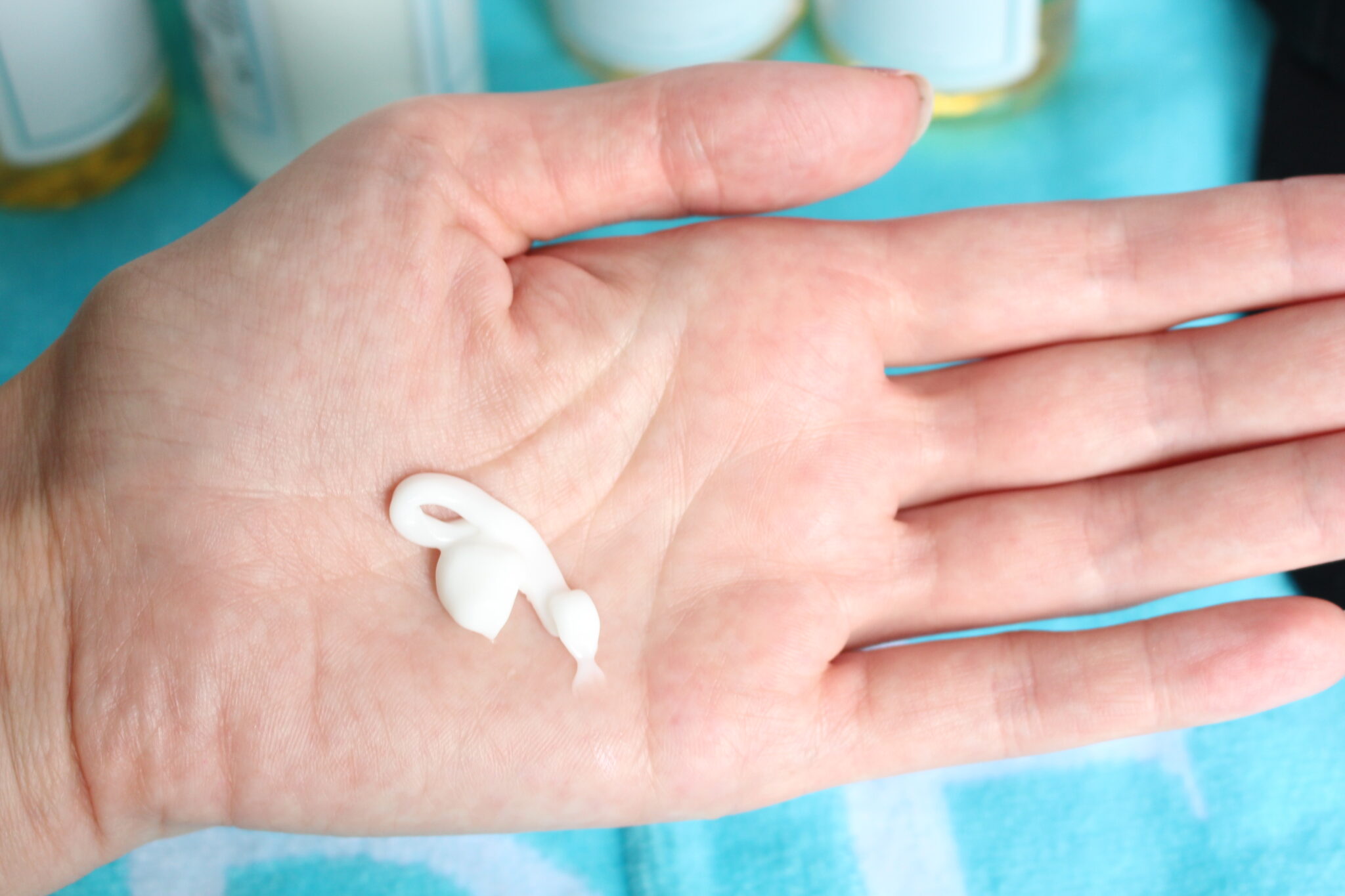 The Private beach Club Body lotion is formulated to protect the skin from the harsh elements year round. This lotion contains Rice Bran Oil that provides some of the best antioxidant protection for the skin.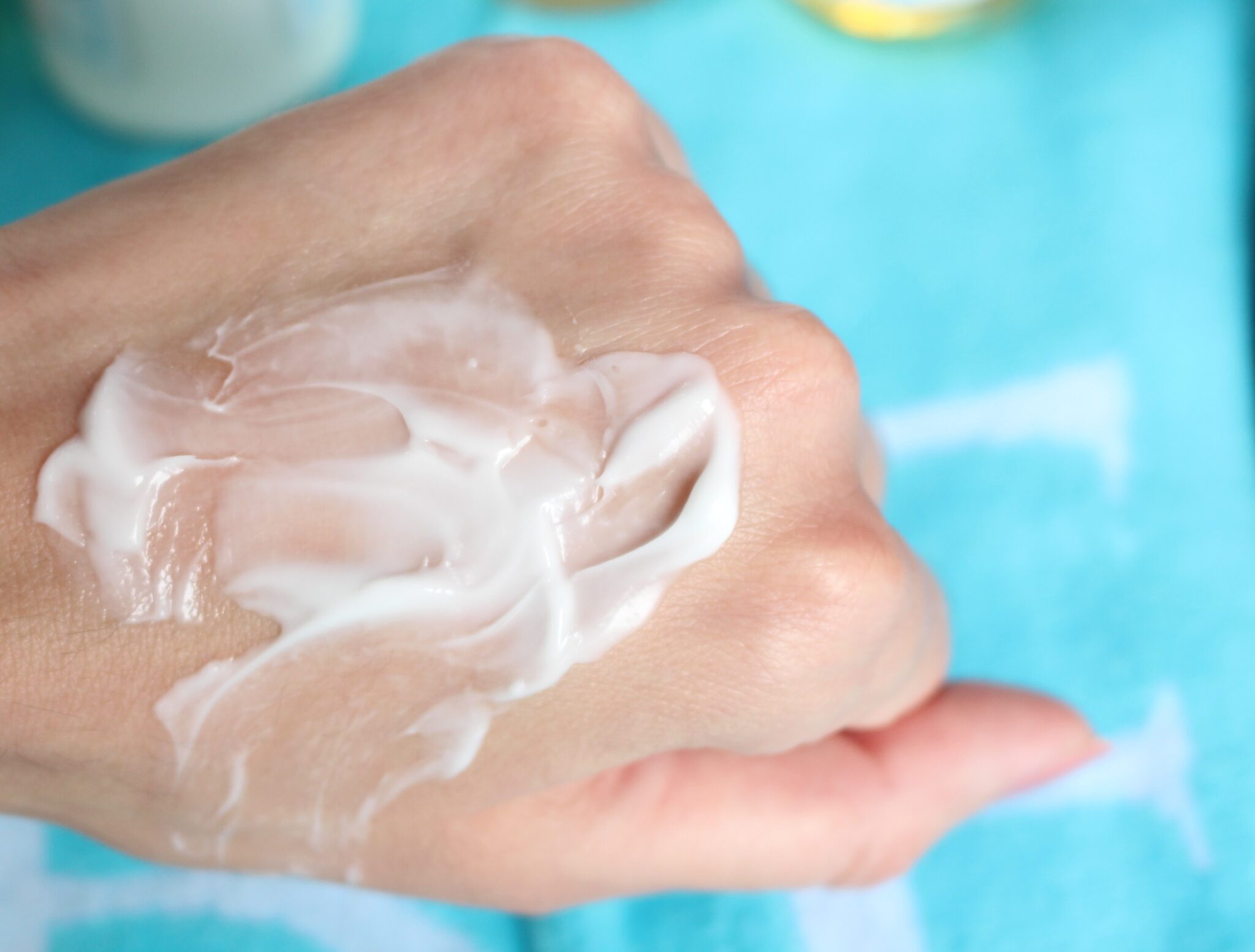 If you hate greasy feeling and heavy lotions, this one is for you. Downside: you will most probably get addicted to this body lotion.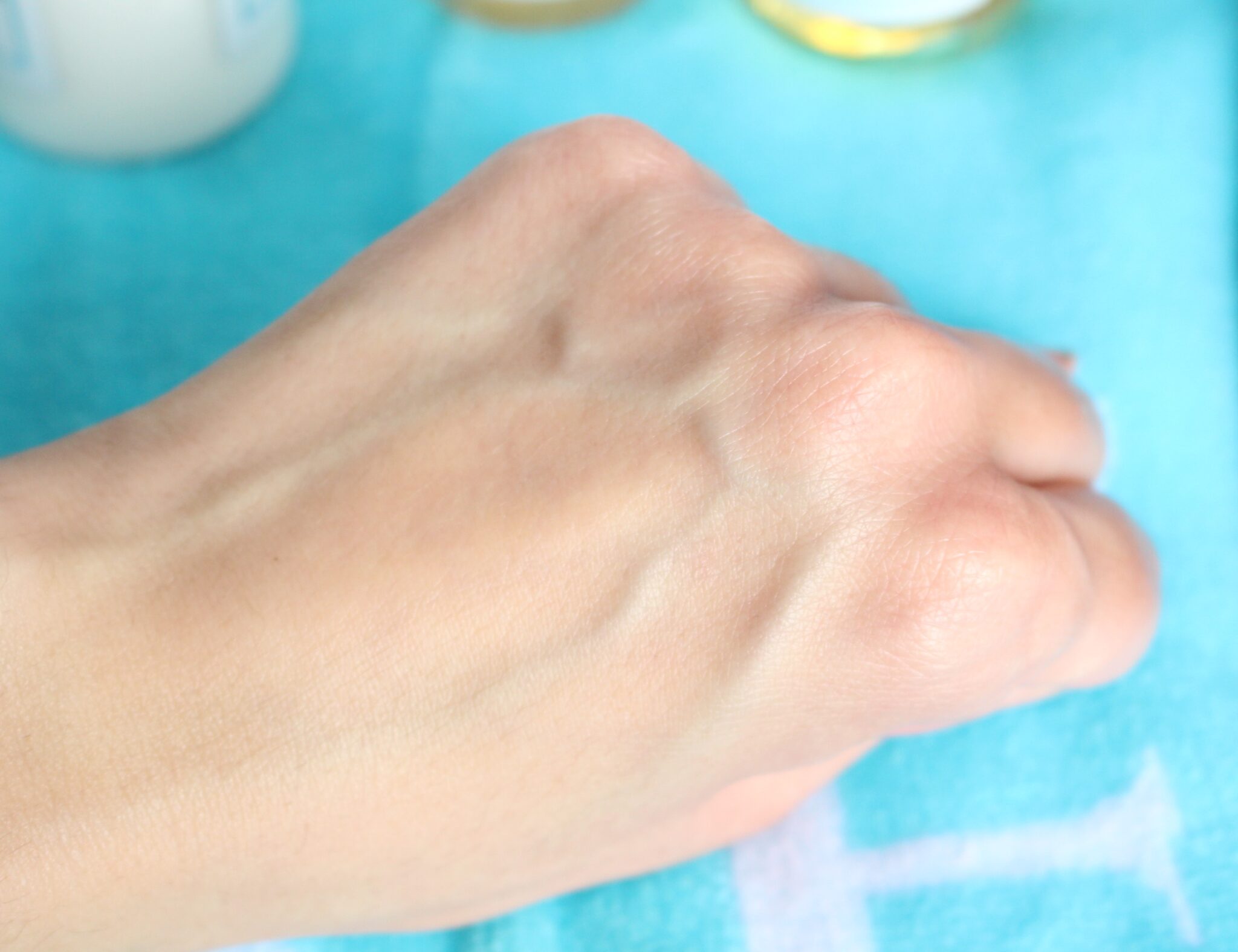 House of Sillage Private Beach Body Lotion INGREDIENTS
Aqua (Deionized Water), Organic Aloe Barbadensis Leaf Juice (Aloe Vera), Organic Helianthus Annuus (Sunflower Oil), Oryza Atiba (Rice Bran) Oil, Isopropyl Palmitate (Palm Oil), Glyceryl Stearate, Cetyl Alcohol, Stearic Acid, Glycerin (Kosher Vegetable), Sesamum Indicum (Sesame Seed Oil), Lavandula Augustifolia (Lavender Distillate), Persea Gratissima (Avocado Oil), Oenothera Biennis (Evening Primrose Oil), Cucumis Sativus (Cucumber), Citrus Sinensis Peel Oil (Sweet Orange Essential Oil), Organic Melissa Officinalis (Lemon Balm), Organic Calendula Officinalis, Wildcrafted Euphrasia Officinalis (Eyebright), Organic Sambucus Nigra (Elderflower), Organic Matricaria Recutita (Chamomile), Wildcrafted Uncaria Tomentosa (Cats Claw), Butyrospermum Parkii (Shea Butter), Organic Simmondsia Chinensis (Jojoba Oil), Tocopherol Acetate (Vitmain E), Panthenol (Vitamin B5), Phenoxyethanol, Ethylhexylglycerin, Wildcrafted Camellia Sinensis (Green Tea), Citric Acid, Organic Centella Asiatica (Gotu Kola Extract), Organic Equisetum Arvense (Horsetail Plant Extract), Pelagonium Gravoleons (Wild Geranium Extract), Organic Taraxacum Officinale (Dandelion Extract), Parfum (Fragrance).
Body Oil 98% Natural 82% Organic
The Private Beach Body oil is a lightweight soothing body oil that leaves a luxurious sheen on the skin without feeling greasy. This body oil is deeply nourishing and contains some amazing anti-aging ingredients. The oil absorbs very quickly and leaves the skin super soft and smooth. It adds a beautiful glow without feeling greasy or heavy. I think it's an outstanding skincare product not only for the beach but all year round. House of Sillage Private Beach Body oil contains Meadowfoam oil which fights free radical damage. The Black Currant oil contains vitamin C which helps to brighten the skin and is an excellent antioxidant that prevents premature ageing.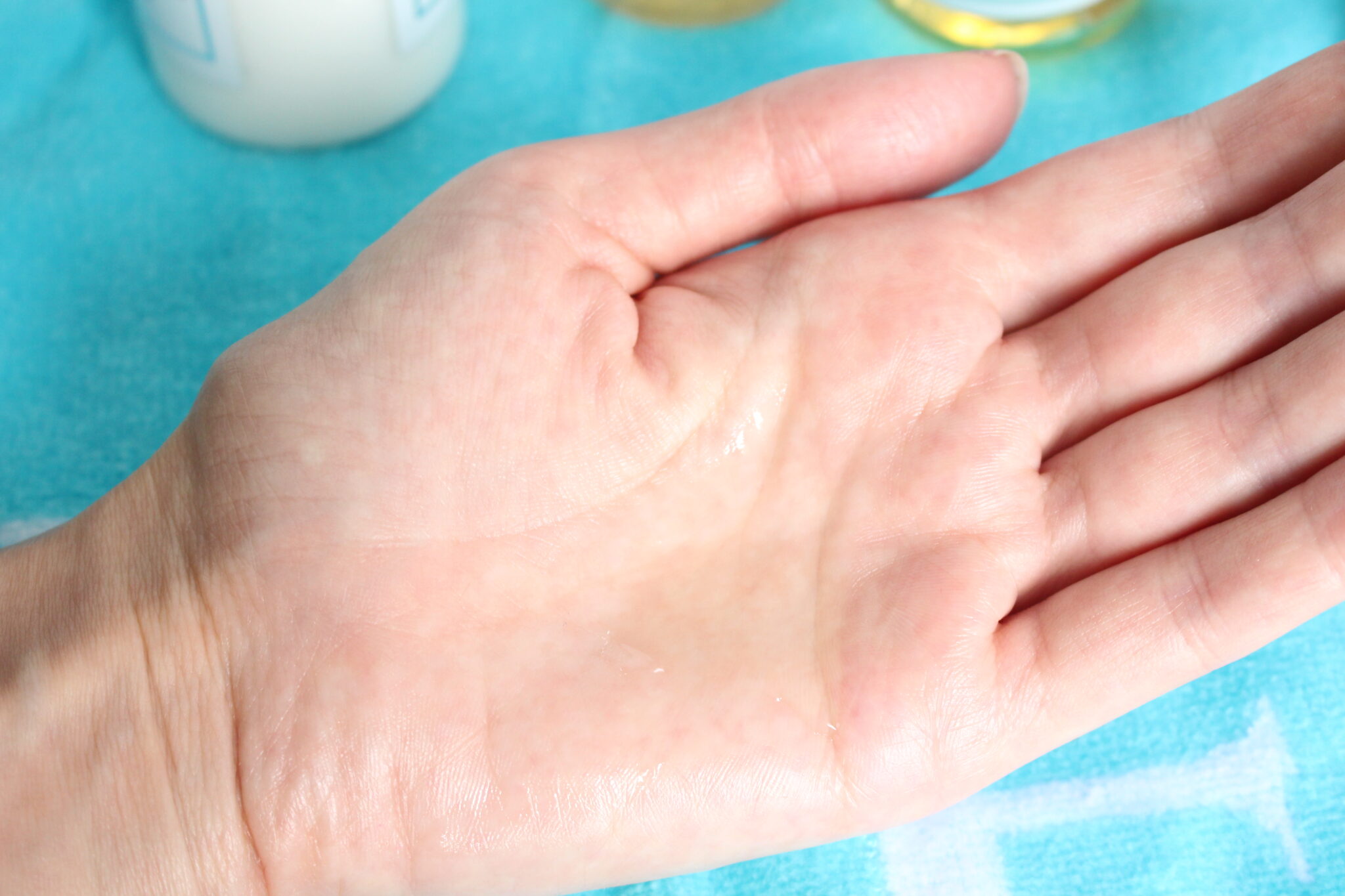 The scent is very light and it will not bother even people who are sensitive to fragrances.
House of Sillage Private Beach Body Oil INGREDIENTS
Carthamus Tinctorius (Organic Safflower) Seed Oil, Prunus Armeniaca (Apricot) Kernel Oil, Helianthus Annuus (Organic Sunflower) Seed Oil, Oryza Sativa (Rice) Bran Oil, Vitis Vinifera (Grape) Seed Oil, Cucurbita Pepo (Pumpkin) Seed Oil, Ribes Nigrum (Black Currant) Seed oil, Limnanthes Alba (Meadowfoam) Seed Oil, Tocopherol (Vitamin E), Parfum (Fragrance).
Facial Mist 98% Natural 82% Organic
The Private Beach Facial mist by House of Sillage has quickly become my favorite facial mist. The reason – my skin has been quite irritated recently (because I was testing some new products); and this facial mist managed to calm my skin in less than 48 hours. Now I'm officially adding this facial mist to my morning and evening skincare routine. I use it as a fist step after cleansing my skin and before applying any serums and moisturizers. You can use it as a final step if you want and it's an excellent product to use throughout the day. I choose to use it as a first step because I like to leave it for a while in order to enjoy the scent of the mist. It uplifts my spirit and takes me to my favorite summer spot – the French Riviera.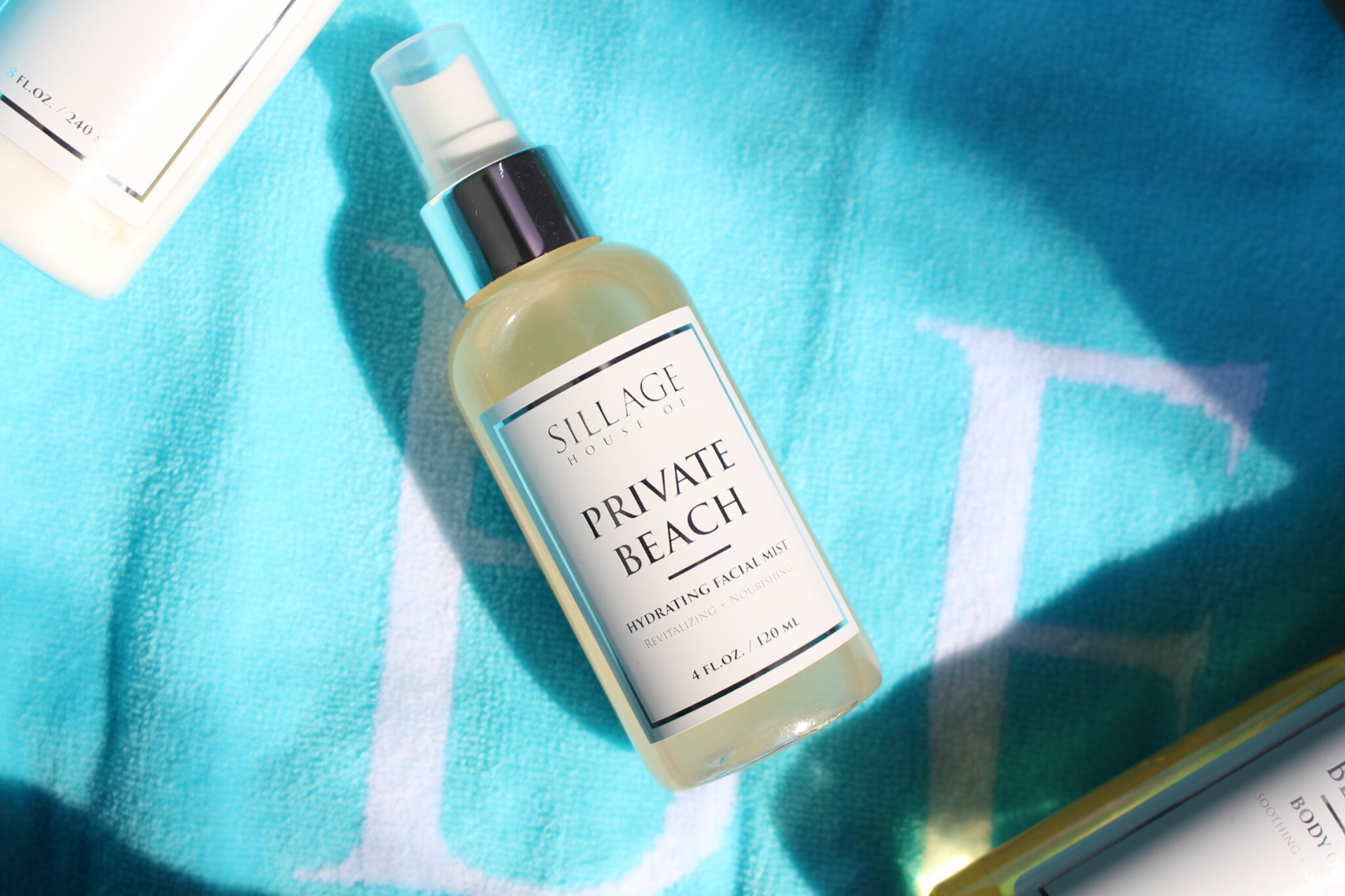 Why it's a must have
The Private Beach Facial mist is packed with a cocktail of antioxidants that help to reduce inflammation and fight premature ageing. It's suitable for all skin types and all ages. I love the fact that it contains tea tree oil which is known for its anti-inflammatory properties. This makes the facial mist suitable for people who have acne-prone skin. It contains Aloe Vera which helps the skin to recover and heal faster. It also contains a blend of vitamins A, B, and C. This facial mist contains one of my favorite skincare ingredients – niacinamide. Niacinamide is the biologically active form of vitamin B-3. It hepls to reduce inflammation and it minimizes dilated pores. Another benefit of niacinamide is that it improves moisture retention of the skin and helps to even out the skin tone. This facial mist is an excellent addition to any skincare routine.
House of Sillage Private Beach Facial Mist INGREDIENTS
Aloe Barbadensis (Organic Aloe) Leaf Juice, Glycerin, Averrhoa Carambola (Starfruit) Extract, Passiflora Incarnata (Passionfruit) Extract, Actinidia Chinensis (Kiwi) Fruit Extract, Garcinia Mangostana (Mangosteen) Extract, Ananas Sativus (Pineapple) Fruit Extract, Punica Granatum (Pomegranate) Extract, Litchi Chinensis (Lychee) Fruit Extract, Zizyphus Jujuba (Indian Jujube) Fruit Extract, Psidium Guajava (Guava)Fruit Extract, DL-Panthenol (Provitamin B5), Niacinamide (Vitamin B3), Beta-Carotene (Provitamin A ), Ascorbic Acid (Vitamin C ), Salix Alba (Organic White Willow) Bark Extract Phenoxyethanol, Melaleuca Alternifolia (Tea Tree) Leaf Oil, Parfum (Fragrance).
My overall assessment
I am confident that The Private Beach Club Body collection by House of Sillage is suitable for everyday use for all seasons and for all skin types. For now we know it's a limited edition collection but I hope House of Sillage will consider to make this collection permanent. This is my only recommendation to the brand. I think the formulation of the products is exquisite and it will be sad if it disappears too soon.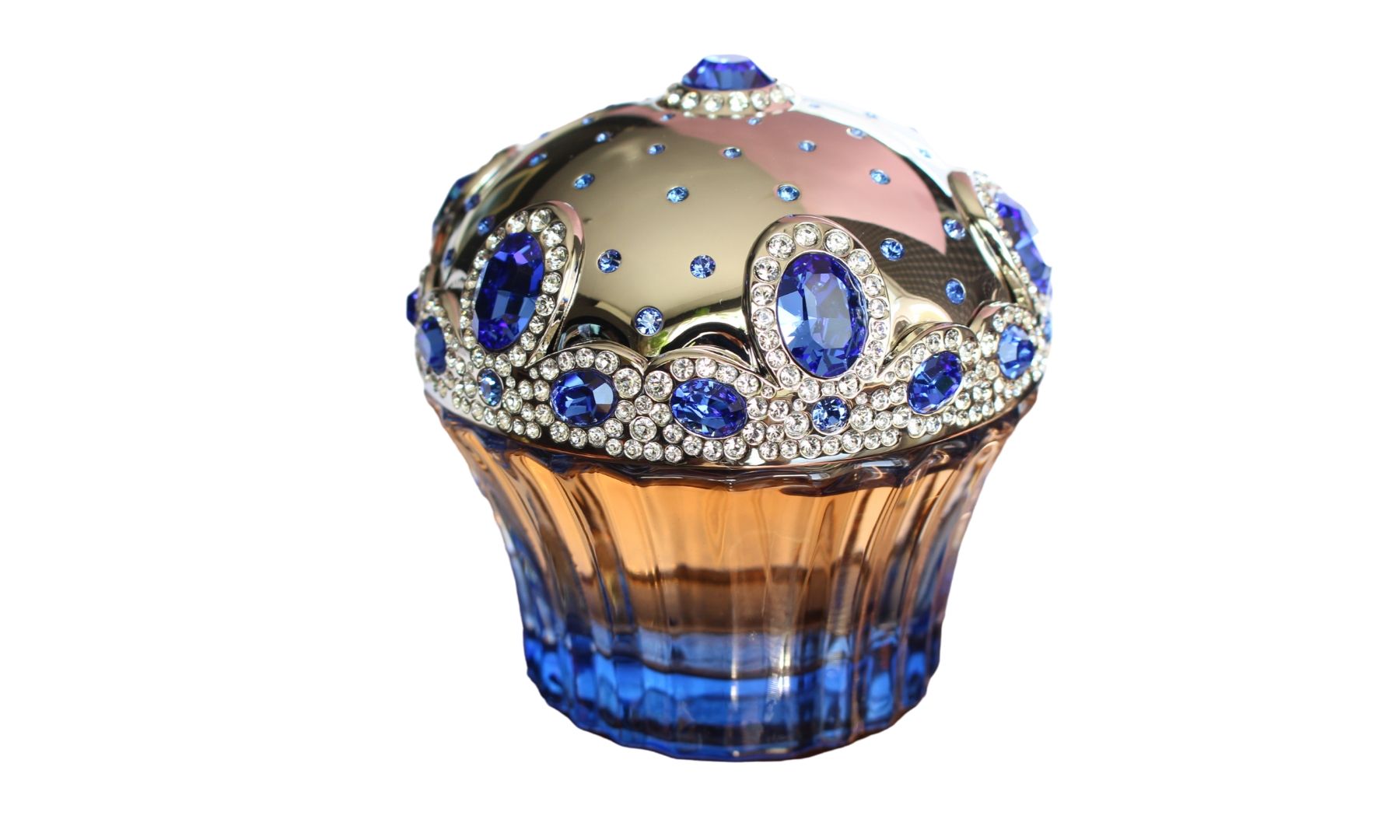 Since the products have outstanding formulation, I would recommend daily use in order to see the best results. Each product from the House of Sillage Private Beach Club collection is packed with antioxidants and organic ingredients that will have very beneficial effects on the skin if used on a regular basis. This collection is a great way to detox your skin while enjoying the luxurious formulation of the products. It's like having your own private spa. I hope you will enjoy this collection as much as I do. ?
*This article contains affiliate links
Follow me on Instagram for more Beauty News 🙂
You might enjoy reading Chevaux D'or House of Sillage – Review